Why You Have To Poop In The Morning, According To Science
The early bird also gets a satisfying bowel movement.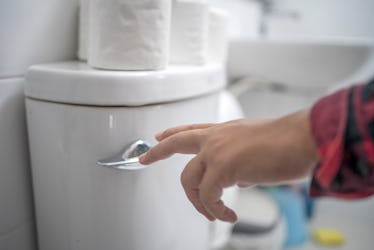 boonchai wedmakawand/Getty
Morning poops are the best poops — so says gastroenterologist Dr. Sarina Pasricha. And the art of the morning dump is not just for dads with limited windows of "me" time. Nay, morning poops are for everyone, because our bodies are simply better equipped to unload first thing.
"In the morning, when we first wake up, an internal alarm clock goes off in our colon and the colon starts contracting more vigorously," Pasricha told Fatherly. "In fact, the colon contracts and squeezes 3 times as hard in the first hour we are awake compared to when we are sleeping."
When you're asleep, your small intestine and colon work to digest all the food leftover from the previous day. About 30 minutes after you get up, however, the urge to relieve yourself sets in. Early morning habits, like stretching, drinking water, and most notably, coffee, can move things along. About 30 percent of people report the need to go after a cup of coffee. "Drinking early morning coffee works synergistically with gut motility to create healthy bowel movements," Pasricha confirms (although studies have cast doubt on any link between caffeine and pooping).
Still, that's not to say everyone should be pooping every morning. Anywhere from three days a week to three times a day is considered normal. Diet and exercise make the biggest difference between weekly and daily dumpers, and traveling can disrupt a person's digestive cycle as well. It's estimated that 40 percent of people experience constipation while on vacation, which isn't the best way to relax. This is at least in part due to jet lag. "Sleep disturbances alter the natural colon peristalsis," Pasricha warns. "People can have irregular bowel movements. Uninterrupted deep sleep is important in maintaining healthy pooping behavior."
Ultimately, taking a morning poop is not vital for a person's health, Pasricha says. But it sure is a pleasant diversion. "Typically the best time of the day to have a bowel movement is in the morning. However, some people may not have morning bowel movements and this does not necessarily mean there are any issues," Pasricha. "It is ok not to have morning bowel movements as long as people are having regular daily bowel movements."
This article was originally published on