What Is The Horniest, Most Fertile Day Of The Year?
Research reveals you're in it to win it.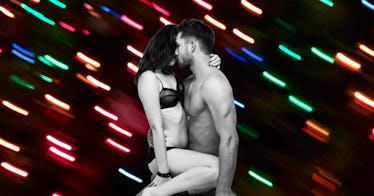 December is the most popular month for making babies, research shows, and the horniest (or at least most fertile) day of them all may be December 11, according to a new report. Perhaps it's because sperm thrives in the cold. Maybe eggnog is an aphrodisiac, or it's the pent-up stress of endless retail lines finding carnal expression.
Regardless, December 11 may be your lucky day.
This estimate is based on the fact that more babies are born in the middle of September than at any time of the year. The most popular birthday is September 16, based on analysis of national UK birth records (admittedly, one conducted by a sex toy retailer and not a team of researchers), making the sexiest day for prospective parents December 11. However, other data indicates that the most popular birthday is closer to September 9, which may shift this slightly. Suffice to say there's some wiggle room.
And even though the original observation may have been less than scientific, scientists have since followed up. "The observed peaks of interest in sex occur around family-oriented religious holidays, across different hemispheres and cultures, and the measured collective mood on these holidays correlates with interest in sex throughout the year, beyond these holidays," according to a study published in Nature.
Other studies have also concluded that we are more likely to have sex around the holidays, and more than twice as many condoms are sold during the week leading up to Christmas. There are also studies that suggest men's testosterone levels peak in December, potentially increasing their libidos. It's a perfect storm.
"These data highlight the fact that seasonally related social events may increase levels of sexual activity, decrease the likelihood that it will be protected," according to a 1999 study on the subject. For those hoping to avoid unwanted pregnancies, this could be bad news. But for aspiring parents, it's just another reason to take December 11 seriously.
Happy holidays! See you in September.
This article was originally published on