This Is What Happens When Kids Find Dad's Porn
It's a lot more complicated than finding a dusty Playboy, experts warn.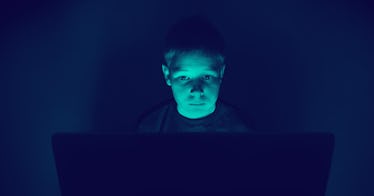 When kids walk in on their parents having sex, moms and dads can stop, close the door, and soon after have a calm, developmentally appropriate conversation about love, relationships, and intimacy. But when kids stumble across a parent's porn collection, the exposure can go on for hours, even days, unchecked, and have a lasting impact on their future relationships.
"When children walk in on their parents having sex, the father isn't usually strangling the mother or ejaculating of her face, which is what they'll see in porn," Gail Dines, a professor of Sociology and Women's Studies at Wheelock College in Boston, told Fatherly.
So what is dad to do when his small child wanders into his online porn collection? Experts agree: lie, boldly, and feel no shame. A parent should never admit that the porn belongs to them, Dines says, because a child stands to gain nothing by knowing what his or her parents watch in private. And there is simply too much at stake to tell the truth to a developing child.
Scientists are still learning about how a seemingly endless supply of hardcore pornography could affect developing brains. Although prior to puberty children don't fully understand what they're watching, what they see can still have long-term impacts, perhaps even dictating what causes them to become sexually aroused as adults. When young children find porn, they also usually lack the vocabulary to talk about what they're seeing. Taken together, this means that how you react to the initial shock of your children looking at porn — whether it is your private stash or not — is crucial. "As much as finding the porn will affect the child, so will how parents talk to them about it," says Robert Weiss, a therapist and CEO of Sex and Relationships healing. He recommends parents treat it like any other form of entertainment, such as Star Wars. They see lightsabers, but parents tell them that swords like that do not exist in real life.
The same goes for porn. Describe it as fiction — entertainment.
Prevention, obviously, is ideal. Which means hiding your porn collection pretty damn well. But it also means engaging in proactive conversations about porn and sexuality, before your children encounter it on someone else's terms. Dines helped develop a program called Culture Reframed, which helps parents with these sorts of tough conversations. Dines, a mother herself, told her son that he may not know what his sexuality is yet; gay, straight or otherwise. But if he watches porn before he has figured this out, he would be handing that over to the porn producers and letting them influence it.
"You're giving away something you don't even own yet. And that's a terrible thing to give away," Dines says. "He said 'Well mom, you pretty much ruined that for me,' which is exactly what I wanted to do, of course."
This article was originally published on