The Kids Of Parents Who Smoke Marijuana Wind Up Vaping Weed
New research finds that children are more likely to start smoking marijuana when their mothers smoke, too.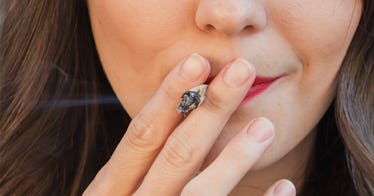 Teenagers are more likely to start smoking marijuana at age 16 if their mothers are long-time weed users, according to a new study in the American Journal of Preventive Medicine. Researchers drew from a sample of more than 11,000 parents and children, and found that 35.3 percent (2,983 children and 1,053 mothers) self-identified as cannabis users. After analyzing the data, they discovered that children whose mothers smoked marijuana were more likely to start toking prior to age 17.
"Early initiation is one of the strongest predictors of the likelihood of experiencing health consequences from marijuana use," said co-author on the study Natasha A. Sokol of Brown University, in a statement. "In a shifting regulatory environment in which we expect adult marijuana use to become more normative, developing a deeper and more nuanced understanding of social risk factors for early initiation is a critical step in intervention design and delivery."
Marijuana may be less dangerous than other controlled substances, but its ubiquity means that it is also among the most easily available to children and young teenagers. And make no mistake—children should not be smoking weed. Is weed bad for you? For adults, the answer is complicated. But studies suggest that marijuana harms developing children, and early use has been linked to problems with decision-making, memory, impulsivity, and cognition. Teens who start smoking at younger ages are also at higher risk of anxiety, depression, and suicide.
For this new study, Sokol and colleagues analyzed the National Longitudinal Survey of Youth, a famously large, longitudinal dataset that describes American youth. Out of 4,440 mother-child pairs in the study, 2,983 children (67 percent) and 1,053 moms (35 percent) said they used marijuana. They found a strong correlation between early marijuana use and having a mother who smokes, although they were not able to confirm whether the children knew that their mothers were toking, too.
Still, "children are much more aware than we think they are," Michael Lynch, an emergency medicine physician at the University of Pittsburgh Medical Center told Reuters. "That's been proven again and again." Lynch considers the study important, limitations notwithstanding because even strong advocates of marijuana legalization agree that children should not be smoking weed. "All—even proponents—agree that younger initiation is unhealthy," Lynch says. "That's been fairly well studied, from an academic and career standpoint and from a cognitive development standpoint."
Sokol agrees, and that hopes her research will not be misused as a weapon against marijuana legalization. Citing the recognized therapeutic benefits of pot, Sokol notes that legalizing marijuana could also reduce opioid deaths, and mean that fewer small-time weed dealers end up in prison for decades. "Total cannabis prohibition may not be consistent with public health objectives," she says. "Instead, given the neurocognitive, health, and social consequences associated with early use, delaying initiation may be an important, but undervalued, public health goal."