When Kids Vape, What Happens To Their Bodies? Data Explains
Experts agree that e-cigarettes are unsafe—especially for children and teenagers. Here's what the data says about adolescents who vape.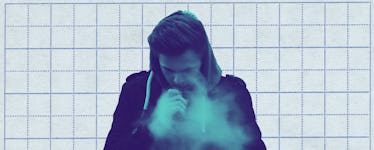 Experts agree that e-cigarettes are unsafe — especially for children and teenagers. Besides being highly addictive, the nicotine inhaled with every seemingly innocuous vape can harm adolescent brain development and increase the risk of teens smoking, drinking, and experimenting with illegal drugs later in life. Nonetheless, children and teens are vaping more than ever, and most are unaware of the risks.
Here's the data behind these conclusions.
Who Is Vaping, And How Often
As of 2015, five percent of middle schoolers and about 1 in 6 high schoolers vape at least somewhat frequently, and report having used e-cigarettes at least once in the past 30 days. And although e-cigarettes have been in circulation in the United States since 2007, these rates have only really started to pick up recently. Eight years ago, in 2011, barely one percent of adolescents were vaping. Centers for Disease and Control data visualized above, show how that is changing.
Adolescents Have No Clue What They're Smoking
Despite extensive evidence of the dangers of e-cigarette use, especially among young adults, most students seem unaware of the risks. When asked whether using e-cigarettes on some days but not every day caused no harm, some harm, or substantial harm, the data below demonstrates that the majority felt the practice was either harmless or close to it.
The Unique Dangers Of Vaping, For Adolescents
In the CDC's most recent report on vaping, the agency cites nearly 40 human studies conducted since 1992 that demonstrate how nicotine exposure harms adolescents in unique ways. It's bad enough for adults to indulge in cigarettes — electronic or otherwise — but adolescent brains are uniquely pliable and not yet fully developed. A small selection of the implications of exposing these growing brains to an addictive chemical is illustrated in the chart, below.
This article was originally published on