The Best Streaming Workouts Right Now Were Developed In Prison
From prison cell to living room, this workout has you covered.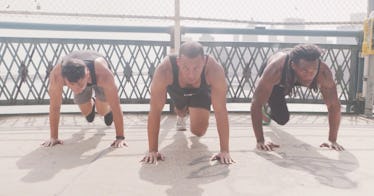 Working out regularly is always necessary. It's even more necessary now that we're all social distancing at home due to coronavirus. Coss Marte, the founder of the prison-style fitness workout Conbody, can help.
A former drug kingpin and three-time felon, Coss knows a thing or two about being cooped up and devised a workout system that helped him stay in shape in a very small, confined space.
"When I was in solitary confinement I had to develop my own routine. I would wake up, eat breakfast, do a workout, read, then write letters," Marte told Fatherly from his New York City home where he, quarantined like the rest of us, spoke over the phone. "There were times that I ran in the prison yard, but when I was stuck in solitary, it was just the side of my bed. And I had exercises that were pure function." Those exercises? Sitting down. Getting up. Stepping up from the bed and stepping down. Duck walks. Bunny hops.
Marte now lives at home with a 12-year-old and runs Conbody, which is a gym and streaming workout service that is intense, motivating, and requires little room and less equipment.
"Our workout is in small, constrained spaces because I developed it in a prison cell," he says. That's all you need. Here, then, are Coss's tips for staying in shape when space is (very) minimal.
Keep Your Space Minimal
"If you have a yoga mat, put it down. I personally don't do anything. I didn't have anything when I was incarcerated. Sometimes i use a little towel for my wrists, but that's about it."
Go Barefoot
"Do it barefoot. You activate more muscles. You're feeling the ground. There are other muscles in your feet that really activate coming up your legs. It's the cheapest workout," he says.
Don't Rely on Indoor Workouts
Also, go outside. Take a walk. Try to distance yourself. But get some fresh air.
Let Your Kids on In the Fun
"Bring your kid into a workout routine. If they love to move and see someone live on a video camera," Coss says. "I've done facetime videos with someone who was living in Minnesota and the kids were running around the mat. It was annoying but then she had her kid join."
Stream Classes
Without motivation, you cheat. You don't push it. You gain (weight). Finding a live class is best because they can see you (technology!) and push you. Try Conbody.com for regular streaming classes at 8, 1, and 530. "We see you and call you out and push you to the other level," says Marte. If that's not your style, there are also shorter, more anonymous online on-demand workout classes there, unlimited for $9/ month.
Change It Up
"When I'm working out I don't mind repetition, but the workouts that we developed are not that competitive," says Marte. "I include anywhere from 20 to 40 different moves. It's really changing. High-paced. No breaks. Going from one exercise to the other. Let your body rest and activate."
You're Going to Eat More. So Eat Healthy
"I'm eating more. Not really going outside as much," says Marte, preaching to the proverbial choir. "I think under circumstances try to limit yourself. There's a lot of temptations. At least try to pick on something healthy. Nuts. fruit, apple. Bananas. Celery sticks. Carrot sticks."