The Coronavirus Sleep Regression Is Real. Sleep Consultants Are Here For It.
If your kids are experiencing a sleep regression right now, you can most definitely blame the quarantine. You can also fix it with relative ease.
by Isobel Whitcomb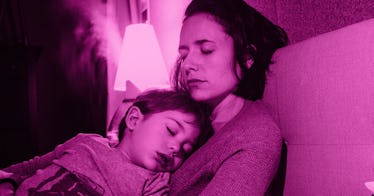 There's never a good time for parents to deal with a sleep regression. But we can safely say that during quarantine is the worst time. Too bad sleep regressions are trending upward right now. General anxiety and changes in routines have lead to kids who used to go down just fine now putting up fights and those who sleep through the night letting you know they're awake at 3 a.m. Fortunately, there's one very good sleep training fix: It's time to bring in the sleep consultant.
Sleep consultants work with parents to establish a sleep-training plan. Then they provide the support and accountability to actually stick to it.
As an industry, sleep consulting has emerged and grown over the last decade. As of 2016, the median amount of time a sleep consultant had been in practice was only four years, according to a survey published in Behavioral Sleep Medicine. Now, they're here to help families through the pandemic.
The approach isn't one-size-fits-all, says Corey Wilbur, a New York-based sleep consultant at Let There Be Sleep. It's about identifying the stressors and behavioral issues causing sleeping difficulties, and devising strategies that the family in question can realistically follow. Typically, consultants meet with parents for one longer consultation over the phone or video conferencing. The consultant will develop a plan for the parents, and then provide anywhere from one follow-up call to unlimited support over the following weeks. In a pre-pandemic world, many consultants also would offer in-home support — for $1000+ dollars. Online consultants tend to charge much less, usually around $300-600 for several weeks of support.
Because of coronavirus-related stress, sleep consultants have seen a spike in demand.
"Adult stress is certainly felt in homes, and that can impact kids," said Johanna Snyder at Sleep Soundly Consulting. For the first month of the pandemic, Snyder's schedule slowed as parents adjusted to a new normal. Then business suddenly picked up. One client called because her daughter, who normally napped every day at 1 o'clock, wouldn't stop crying at naptime. Another client's kid was peaceable around naptime, but wouldn't sleep — she would just sit quietly in bed, while becoming progressively more tired and cranky at bedtime.
It's not just adults' stress that impacts kids. Changes in routine alone can mess with kids' sleeping patterns, Snyder said. For example, if a child is used to napping at daycare or with a nanny, a different environment or person can feel confusing. Spending less time running outdoors means kids are less worn out at the end of the day. And less natural daylight might also be a problem for sleep, Snyder said.
The sudden shifts in kids' bedtime behavior reminds Snyder of when her own son was a toddler. As a baby, he wasn't a perfect sleeper, but Snyder managed to get him on a schedule by reading books. Then, when he was two, Snyder became pregnant again — and her son stopped sleeping. Desperate for support, Snyder hired a sleep consultant. The consultant helped Snyder determine nap timing that wouldn't interfere with sleep, strategize what to do if her son woke in the night, and cope with the inevitable adjustment period. Within weeks, the family was back on track.
Dealing with sleep regressions that are associated with a major life change — like a new baby or a global pandemic — require a mixture of helping a child cope with stress and addressing behavioral problems, Snyder said.
"It's tricky," she said. On the one hand, you don't want to go down a slippery slope where your kid depends on you to go to sleep each night. "But the flip side is that this is a really scary time for lots of kids and grownups. They may need some extra support." Limiting kids' exposure to the news, explaining what's going on in child-friendly terms, and role play are all strategies Snyder recommends to clients. And yes, lying in bed with your kid as they fall asleep is just fine, if that's what they need and it works for your family.
The most important thing, Wilbur said, is consistency. "If being consistent means that right now you let some things slide, then let things slide. But you have to decide what things are going to be most important to stick with," Wilbur said.
Sleep consultants can help parents decide where to draw boundaries and where to go easy. Parents do the rest. "They are empowered to do this," Snyder said, "I just am there to support them and help them through the process."
This article was originally published on