Can Masturbation Cause Prostate Cancer? Actually, It Does Just The Opposite
Having more sex and masturbating more could lower the risk of prostate cancer.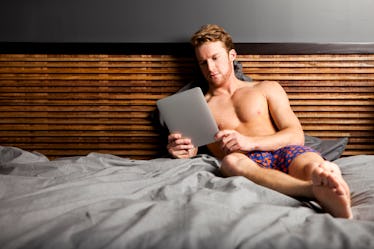 Jordan Siemens/Getty
Prostate cancer is the second most common cancer in men in the U.S. — only skin cancer beats it out. It's estimated that in 2023, more than 288,300 men will develop prostate cancer and 34,700 will die from it. There's a pervasive myth that has many men wondering if masturbation can cause prostate cancer. Luckily, it doesn't, and more sex (or masturbation) might actually make for a healthier prostate.
Evidence for the role of ejaculation in prostate cancer prevention comes from several studies, but most notably from a 2016 study in which Harvard researchers followed more than 30,000 men for almost 20 years. The researchers, quite unabashedly, asked them men to report how often they ejaculated during their 20s and 40s.
What they found is that ejaculating more than 20 times per month reduced prostate cancer risk by about 20% compared to ejaculating only four to seven times per month, for both men in their 20s and 40s. "This is a fairly sizable effect," says Lorelei Mucci, Sc.D., a co-author of the study and director of the Cancer Epidemiology and Cancer Prevention Program at the Harvard T.H. Chan School of Public Health.
Although the study didn't investigate the reasons why frequent ejaculation might be protective against prostate cancer, Mucci says one potential explanation is the so-called prostate stagnation hypothesis: that infrequent ejaculation may allow potentially cancer-causing substances to linger in the prostate for extended periods of time, upping cancer risk.
The findings of the study are especially impactful because most of the well-established factors that increase risk for prostate cancer, such as age, family history, ethnicity, and genetics, are non-modifiable — that is, they're things we can't change. It would be beneficial to public health if people could reduce their risk for this type of cancer by doing something as simple (and enjoyable) as ejaculating.
But if you think this sounds too good to be true, you're not alone. Marc Dall'Era, M.D., a urologist at the University of California Davis, says the study is one of the best that have been done on this topic. However, he points out that although it shows that ejaculation frequency and prostate cancer risk are associated, it doesn't necessarily show that orgasm reduces cancer risk.
"We don't know if the protective effect is truly more ejaculation, or is there some other unmeasured variable that led to that outcome? For example, were men who reported more ejaculation just overall in better health?" Dall'Era says.
However, Mucci notes that the association did not seem to be driven by other variables accounted for in the study; the link held true even after adjusting for factors such as physical activity and diet.
A few other studies have also found that greater ejaculation frequency is associated with a reduced risk of prostate cancer. But there's disagreement about which decades of life have the biggest effect. For example, an Australian study from 2017 found that there was a lower prostate cancer risk linked to frequent ejaculation for people 30- to 39-years-old, but not for men in their 20s or 40s. A smaller 2008 study from the United Kingdom found that sexual activity from age 50 to 59 was associated with decreased risk of early-onset prostate cancer (diagnosis at or before age 60), but actually associated with increased risk of early-onset prostate cancer when they ejaculated a lot in their 20s.
Dall'Era says he wouldn't necessarily recommend that men ejaculate more often to prevent prostate cancer, although there's probably no harm in it. Instead, his main recommendation is that people talk to their doctor about whether they should get screened for this cancer.
But overall, ejaculation likely comes with many benefits and few risks if done safely, Mucci says. "Sex can be a wonderful part of healthy relationships, and sex and masturbation can have positive psychosocial health effects," she says. "So, there is no downside to increased sex — or masturbation — as long as it is protected sex."
This article was originally published on