Mom's Long-Term Stress Can Affect Her Amniotic Fluid
And break down the protective measures meant to keep baby from stewing in stress hormones.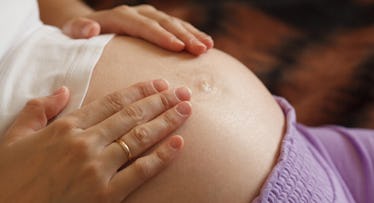 According to new research, prolonged stress in pregnant people increases levels of certain stress-related hormones in amniotic fluid. The study, published in the journal Stress shows the placenta releases corticotropin-releasing hormone (CRH) in response to maternal stress and adds to the body of evidence that maternal stress should be carefully monitored during pregnancy.
Study co-author Dr. Pearl La Marca-Ghaemmaghami notes that in and of itself, CRH isn't bad for the baby. In fact, they "further the development of the fetal organs, including the lungs and the brain," she explained to Fatherly. "However, excessive exposure in utero is problematic and has been associated with an increased risk for cardiovascular disease, ADHD, anxiety, and depressive disorders later in life."
The key is the term "excessive," as opposed to temporary spikes in stress that will occur naturally over the course of pregnancy. Due to the nature of their experimental process, the researchers had to be aware of these temporary spikes. That's because, in order to access the amniotic fluid, they recruited participants already undergoing an amniocentesis process as part of their prenatal care. Because amniocentesis extracts amniotic fluid through a very long needle inserted into the belly, a certain amount of acute stress response was expected. Obviously. However, that acute stress response seemed to be well managed by the body.
"Our results suggest that the experience of an acute stress situation is not necessarily harmful to the unborn child," La Marca-Ghaemmaghami says. That because "stress-protective biological mechanisms" in the placenta help to protect the fetus from the sudden rush and resulting high concentrations of stress hormones when a mother gets freaked out by something like being impaled by a very long needle.
La Marca-Ghaemmaghami considers this an important finding in order to help reduce feelings of maternal fear or shame when experiencing short-term stress. That said, things change when the stress becomes chronic. In those cases, the protective mechanisms appear to break down, leading to higher concentration of CRH in the amniotic fluid.
"In such cases, it is advisable for a woman to seek the help of a psychotherapist who will support her in coping with the challenges she is facing," La Marca-Ghaemmaghami explains.
The research sheds additional light on the need for mothers to have adequate access to prenatal mental health services. But it might be beneficial for the entire family, as 2013 research suggests paternal stress prior to birth can predict mental health problems in a child by age 3.
All of which suggests that parents to be might want to contact a psychiatrist along with their pediatrician. Just to be safe.
This article was originally published on