Men, Your Job Could Literally Be Hurting Your Heart
A massive study details the relationship between the type of jobs men have and their subsequent risk of cardiovascular disease.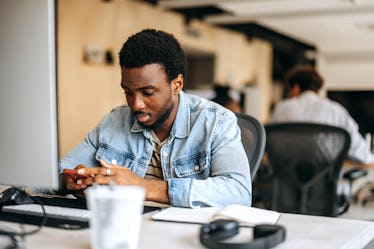 Pekic/E+/Getty Images
It's not a great time to be a worker in the U.S. The so-called golden age of American work is definitively over. Though we're in a tight labor market, pensions are a thing of the past, hours are longer and pay is lower, and the push for returning to the office is leaving families in the lurch when it comes to child care, an institution already on shaky ground. On top of all that, a recent study found that for some men, work may actually be a risk factor for cardiovascular disease.
According to a study published in Circulation: Cardiovascular Quality and Outcomes, a journal of the American Heart Association, men who work hard at stressful jobs and also feel that they aren't adequately compensated have an increased risk of heart disease. The massive study was 18 years in the making, and details in great length the relationship between the type of jobs men have and their subsequent risk of cardiovascular disease.
The study, led by Mathilde Lavigne-Robichaud, R.D., M.S., a doctoral candidate in the Population Health and Optimal Health Practices Research Unit at CHU de Quebec-Université Laval Research Center in Quebec, Canada, gathered data from 3,118 male and 3,347 female white-collar employees with no evidence of heart disease, and an average age of 45. The team followed participants from 2000 to 2018, measuring job stress against perceived reward and gathering heart health data.
They found that men who reported either a stressful job or an "effort-reward imbalance" were 49% more likely to develop heart disease than other men in the study. Men who reported both job stress and an "effort-reward imbalance" were twice as likely to develop heart disease, an outcome similar to the effect of obesity on heart health.
"Our results suggest that interventions aimed at reducing stressors from the work environment could be particularly effective for men and could also have positive implications for women, as these stress factors are associated with other prevalent health issues such as depression," Lavigne-Robichaud said in a statement. "The study's inability to establish a direct link between psychosocial job stressors and coronary heart disease in women signals the need for further investigation into the complex interplay of various stressors and women's heart health."
Though the study consisted primarily of Quebecois participants, Lavigne-Robichaud said that the results are likely similar for workers in the U.S. and other high-income nations.
The research team recommends that employers improve communication at work, promote work-life balance, and provide employees with suitable support resources.
"The U.S. workforce is among the most stressed in the world, and these workplace stressors can be as harmful to health as obesity and secondhand smoke," Eduardo J. Sanchez, M.D., M.P.H., FAHA, FAAFP, the American Heart Association's chief medical officer for prevention. "This study adds to the growing body of evidence that the workplace should be prioritized as a vehicle for advancing cardiovascular health for all. The American Heart Association remains committed to and engaged in providing employers with the resources and information they need to actively support the health of their employees and communities through science-backed changes to policy and culture."