Is It Safe To Take My Kid To A Protest During COVID?
There are rarely risk-free decisions or one-size-fits-all answers, but this risk assessment matrix and decision tree can help parents make the best one.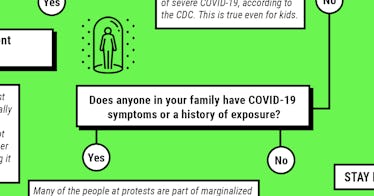 In the best of times, decision-making is tough for parents. Raising a well-adjusted, healthy human is complicated as hell. Toss in the COVID-19 pandemic, economic depression, and social injustice and your most basic choices become stress-inducing nightmares. There are rarely risk-free decisions or one-size-fits-all answers, but there are ways to assess and respond to risk.
In the summer of 2020, protesters spoke out against systemic racism toward Black people, sparked by cries of justice for George Floyd. Though the protests never disappeared completely, they gained new strength after the Louisville police officers involved in the killing of Breonna Taylor were absolved of guilt by grand jury. Though they have now quieted on the national scale, there's always a local protest for a cause that you can join. But is it safe to protest during COVID?
There's a COVID risk anytime you go into a public space — especially one with lots of people crowded together, even if it is outside. But that doesn't mean you shouldn't go. "What we can do are things to reduce the risk," says William Schaffner, MD, medical director of the National Foundation for Infectious Diseases. "You have to decide what your own personal risk tolerance is for yourself and for your family members."
You want your kid to have a sense of morality, and you can build that by bringing them to protests. Of course, some protests turn violent, such as with police officers tear-gassing peaceful protests, which is especially dangerous for kids. Then there's the fact that we're still in a pandemic, and children under 12 aren't yet fully vaccinated.
That's a lot of risks to consider. Let's map them out.
Using a Risk Assessment Matrix to Make the Protest Decision
Often used by businesses and other organizations, risk assessment matrices help decision-makers consider the riskiness of a choice at a glance. When reading a matrix, first identify the choices you're assessing — in this case, protesting or staying at home. Then, identify the potential consequences of those actions. Next, identify the factors that go into making those choices. The factors we will consider are public and personal health, family safety, child development, and family values.
A risk matrix compares the severity of the potential consequences of a factor (from 0 to 5, or insignificant to catastrophic) to the likelihood of it happening. By putting those values into a color-coded table, you can get an immediate sense of the riskiness of a choice such as going to a protest.
For each choice, the four factors can fall into three different color categories: green, yellow, and red. Green means that the risk is low enough that you can make the choice without worry. Yellow means that you can go ahead with some precautions. If a factor falls in the red, be afraid. Stop and reduce risk before moving forward.
Different choices have different mixes of red, yellow, and green factors. No choice is perfect, but the "total score" for each choice can help you get a sense of the risk associated with it. That score is calculated by multiplying the severity of a factor's consequences (0 to 5) by the likelihood of those consequences occurring, with Very Unlikely being 1 and Very Likely being 4. The higher the total score, the riskier the choice is.
The Four Factors
If you put the decision to go to a protest on a risk matrix, there are four factors to assess.
Health: The risk that the action has on public and personal health.
Data from last June and July shows that outdoor protests probably don't increase COVID case numbers.
Safety: The risk the action has on your child's safety.
For example, police across the country have tear-gassed peaceful protesters.
Development: The risk the action has on delaying your child's education and social/mental development.
For example, if your kid attends a protest and is exposed to COVID, they may have to quarantine and miss school.
Values: The risk the action has on your family's moral values and the moral upbringing of your child.
For example, skipping out on protests without taking any other action signals to your kid that it's unnecessary to speak up against injustice.
The Two Scenarios
Go to a Protest
Total Score = 9
A family that takes their child to a protest scores well with values — leading by example and following their conviction — but less so with health, especially if anyone in your household is unvaccinated and at high risk for severe COVID.
To decrease your risk score and make your protesting safer, go in the middle of the day when the chances of clashes with police and counter-protestors are smaller.
Don't Protest
Total Score = 12
To not protest is, in many ways, to miss a teaching moment in which a child sees people democratically expressing their values — of social justice and racial equity.
If anyone in your household is unvaccinated and at high risk for severe COVID, take alternative actions, for example, by cooking meals for protesters or deciding as a family where to donate money.
The Bottom Line:
When we mapped these two scenarios, protesting had the lower risk score of 9 and staying home had the higher risk score of 12. However, every family is in a unique situation, so the total scores listed above won't perfectly reflect the risk of a choice for you.
To get a risk matrix for your own family, think about a potential consequence, for example, being teargassed for the "safety" factor. If the protests around you have been peaceful and haven't included tear gas, this consequence is probably "Very Unlikely." If you were to get teargassed, the consequences would be severe, so it may have a severity rating of "3" or "4." Repeat this analysis for each factor.
For health, your chance of getting or spreading COVID at a protest is probably "Very Unlikely." If you're vaccinated and/or wear a mask, your severity score will be low because you will have little chance of causing an outbreak.
Making the Decision
Now that you have a better sense of what the risks are, you can use this decision tree to get a personalized recommendation about whether your family in particular should attend a protest. Because your family is unique, and you have unique needs. This decision-making tool is here to guide you.
Ready to go to a protest?
There are certain steps you should take to keep your family as safe as possible at a protest:
Talk to your child beforehand about what will happen at the protest and why you're going.
Pack water and snacks, tissues, hand sanitizer, identification, money, and first aid supplies.
Wear a mask.
Don't wear contacts. Do wear comfortable shoes, sunglasses, and a hat.
Go during the day.
Carry a sign instead of chanting to reduce the chance of transmitting the virus.
Try to stay 6 feet away from others, even if that means staying on the edge of the protest.
Have a plan to get out quick if the protest turns violent.
Have a plan for where to meet if your family gets separated.
Have a plan for what to do if you or your child gets sick after the protest.
This article was originally published on