Planning A Home Birth? You Need A Contingency Plan.
A Certified Nurse Midwife and an OB/GYN share what to consider if you want to give birth at home.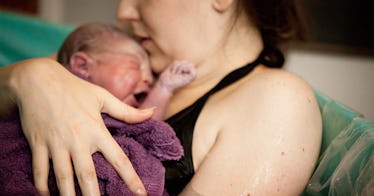 Some couples embrace the idea of giving birth at home because they desire a controlled and familiar environment or the use of a birthing pool. These births in the U.S. account for just 1 percent of deliveries annually. Nevertheless, home births have been trending upward with a significant surge in 2020 due to COVID fears. But couples planning on giving birth at home should have a contingency plan in case mom and baby require a transfer of care to a birthing center or hospital at some point in the process.
When Should I Start Making A Contingency Plan?
Fadwah Halaby, APRN/CNM, is a Certified Nurse Midwife who has worked in several Emergency Rooms and Labor and Delivery units. She assisted over 1600 women in giving birth at two hospitals in Palm Beach County and frequently saw over 500 women in the office every month. The Founder of Midwife 360, she and her team provide comprehensive care to women in South Florida, including home births.
"We start that conversation during the initial consultation," explains Halaby. "We do an hour-long conversation to let each woman know what they are getting into and answer all of their questions." These consults include discussing risk factors that may make it too unsafe for a woman to labor and deliver at home.
Halaby believes in setting realistic expectations for how common it is to transfer care and the reasons that may be necessary. "Twelve percent of first-time moms will transfer from home, and the overwhelming majority of those are for non-emergent reasons such as the labor is taking too long, pain level becomes too high, or the positioning of the baby," she says.
A Doctor's Perspective
Douglas Creedon, MD, Ph.D., an Obstetrics Hospitalist at The Children's Hospital of San Antonio and Associate Professor of Obstetrics and Gynecology at Baylor College of Medicine points out that The American College of Obstetricians and Gynecologists (ACOG) maintains that hospital birth is a safer option due to the resources available if something goes wrong. "And that's the main concern," he says. "But that said, we all recognize that patients have a choice in the care they receive and how they want their birth to proceed."
While the official American College of Nurse Midwives (ACNM) statement on planned home births doesn't hold to an inherent safety difference between birth environments like the ACOG statement does, Dr. Creedon points out that the two organizations have a "very close relationship" as evidenced by their Joint Statement of Practice Relations Between Obstetrician-Gynecologists and Certified Nurse-Midwives/Certified Midwives. Dr. Creedon has tried to model this in practice by keeping lines of communication open with professionals who facilitate planned deliveries in homes and birthing centers.
"I visited a birth center the other day because I think it's important to cultivate those relationships with providers who are doing outside hospital births," he explains. "Ultimately it's about patient safety and the resources to provide the best possible care when it's needed."
What Should I Consider for My Home Birth Contingency Plan
Halaby recommends getting as many details as possible about how a midwife you are considering handles transfer of care scenarios, and specifics about what those have looked like in the past. These are all things that she understands well as a Certified Nurse Midwife who has experience in hospitals in a busy OB/GYN clinic setting. But She recommends you start with some clearly defined questions:
Do you provide records and a proper handoff if a transfer of care is necessary?
What's your mechanism of transfer?
What reasons might I risk out of care with you?
Do you have a backup physician?
What have specific transfer of care scenarios looked like for you?
Can you tell me about your last three transfers?
It's also important to understand the level of care available at the hospitals in the nearest proximity to your home. For instance, a hospital that performs 1000 or more deliveries each year is going to have an OB Hospitalist in the building at all times, which is the situation at The Children's Hospital of San Antonio where Dr. Creedon practices. But a smaller hospital, or a hospital in a more rural area is less likely to have someone with OB experience in the building at all times. And even if they do, those hospitals typically transfer high-risk patients or patients with complications to larger facilities.
"Home Births really should be the realm of uncomplicated low-risk pregnancies," Dr. Creedon notes.
With any pregnancy, labor and delivery, planning your ideal scenario and communicating that with your provider is an important part of the process. And working with them to understand where, when and why those plans may need to change is key to the health and safety of both mom and baby.
This article was originally published on