Golf Carts Caused 100 Childhood Injuries And One Death Over The Past Decade — In Just One State
Golf carts are good for two things: helping golfers take a load off, and giving kids skull fractures.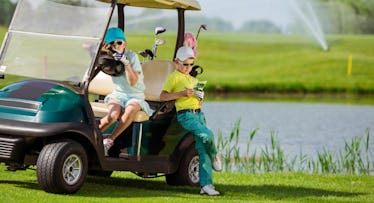 Kids are increasingly injured by golf carts, according to new research presented at the American Academy of Pediatrics. That's not because 12-year-olds are getting hammered on the fairway and driving into water traps. Instead, the data suggests these injuries happen in residential neighborhoods as the slow-moving, seemingly benign carts collide with kids.
"Golf carts, unlike ROVs, travel at lower speed overall," Dr. Charles Jennissen of the University of Iowa Carver College of Medicine (who was not involved in the study) told Fatherly. At the same time, golf carts lack certain safety features. "They don't have a roll-over structure and often parents treat them as toys and not a real vehicle that could be dangerous."
Researchers conducted a retrospective study of 11 years of ER data from the state of Pennsylvania. After identifying 108 children who had been injured by a golf cart, the researchers parsed the data based on age, gender, and type of injury. The most significant finding was that children in golf cart accidents appear to be especially susceptible to head trauma, with concussions affecting 27 percent of children, and 44 percent walking away with skull fractures. There was one fatality.
One of the reasons that these injuries have become so prevalent is that parents are increasingly allowing young children to drive golf carts, despite the fact that they lack the cognitive developmental capacity to make good decisions on the road. But quite a few of the injuries were due to collisions with children, suggesting that the ultimate danger is from the carts creeping into communities. "Golf carts used to be relegated to the golf course," Jennissen says. "That's not true anymore. People are purchasing golf carts to have at their homes and small towns will allow golf carts on the streets as transportation."
Coauthor on the study Dr. Mariano Garay of Penn State College of Medicine says he hopes this research will lead to more rigorous safety guidelines, and sound the alarm for parents who are still unaware of the threat that golf carts may pose. "Golf cart accidents in children are associated with significant injuries," he said in a statement. "Despite the risk of injury, we are unaware of any guidelines for parents or physicians regarding their use among children."
And without safety guidelines, it's little surprise that golf cart injuries have become par for the course.