Foot Exercises For A Stronger Foundation
They are the foundation for everything you do, all day long. Here's how to make sure your feet are up to the task.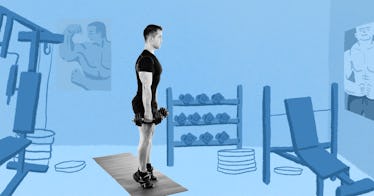 Twenty-six bones, 33 joints, and over 100 ligaments. That's not your body we're talking about — that's just your feet. It's an awful lot of moving parts to pack into a foot-long space. Throw on 180 or so pounds on top of that, and then consider that if you exercise, every running step you take multiplies the impact of your weight threefold, and you can see the kind of pressure your delicate foot structure is under day in and day out.
The perks of strengthening your feet are multifaceted. First, strong feet give your legs a durable base to push off from when you're running, cycling, squatting, or doing whatever it is you like to do to stay fit. Second, strong feet are more resistant to foot pain, one of the most common sources of bodily aches right up there with back pain. Tight arches, sore heels, plantar fasciitis — all of these complaints are met with a physical therapist's advice to build foot strength. By pre-emptively exercising your digits, you might avoid the pain altogether.
Make sense? Great. Here are 7 exercises to get you started. The whole series takes about 20 minutes and you should do it several times a week.
Towel Scrunch
Sit in a chair with bare feet. Place a towel on the floor, about two feet in front on the chair. Using the toes on your right foot, extend your digits across the towel, then contract them, scrunching your toes together and pulling the fabric close to your chair. Release the towel and extend your toes against, grabbing more fabric and you scrunch them together. Continue reaching and scrunching until you have created a balled-up towel in front of your chair. Do three times.
Arch Raises
Sit in a chair, feet flat on the floor in front of you. Place one hand on either knee. Press down with your arms while simultaneously lifting your heels off the floor, resisting the pressure and rising onto your toes. Release. Do 3 sets of 10 reps.
Pick-Up Game
Take the pieces to your favorite board game like Monopoly (chess and checkers work, too), and scatter them on the floor. Sit in a chair in the middle of the mess. Using only your toes, grab, lift, and carry each piece to a nearby bucket where they will be stored. Continue until floor is clean. Bring the kids in on this one — it's a family favorite.
Foot Flex
Tie an exercise band around the leg of a couch or bed. Sit on the floor, about two feet from the bed, and tie the other end of the band around your midfoot so that there is pressure on the band. Begin to flex and point your foot, keeping resistance on the band the whole time. Do 20 reps on one foot, then switch sides and repeat. Do three full sets.
Calf Raises
The same exercise that tones your calves also builds strength and stability in your ankles. You can do these exercises with both feet at once, or one at a time. Stand facing a wall, about a foot away. Placing hands on the wall for balance as needed, rise up onto your toes and back down, making sure you roll up to the very top each time. Do 3 sets of 12 reps.
Blind Balance
Stand in the middle of a room, feet shoulder-width apart. Shift your weight to the right side and lift your left foot off the floor 6 inches. Close your eyes. Attempt to count to 30 (30 seconds) while balancing with eyes closed. Repeat on opposite side.
Alphabet Game
Stand next to a wall, feet shoulder-width apart. Shift weight to the right side and lift your left foot in front of you, knee bent. Trying to maintain your balance (use the wall for support if necessary), begin to trace the letters of the alphabet in the air with your left foot. Work from A to Z, then switch sides and repeat.
This article was originally published on