What Sport Is The Best Fat-Burning Workout?
You want to get fit but you hate the gym. Turn exercise into a game with these 7 popular activities and you'll change your whole perspective.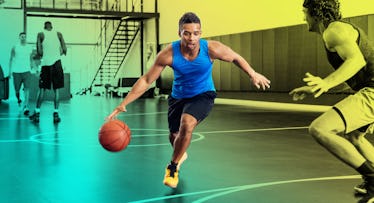 For some guys, the structure and routine of hitting the gym is exactly what they need to keep their fitness on track. For others, it's a slog. The space is dark, the treadmills relentless, and the music mind-numbing. You'd rather be outside, shooting hoops with your boys. Which, actually, you should be, since a pick-up game of basketball burns more calories and builds more muscles than any 30-minute session on the elliptical ever could.
If sports excite you more than spin class, and the idea of scoring points matters more than how much you can bench press, consider these activities that emphasize team spirit and gamesmanship while getting you, incidentally, super fit.
Tennis
At 600 calories an hour, you'll definitely be feeling the burn as you channel your inner Nadal. What's more, the lateral movements — something your body is not used to — strengthens your glutes, quads, calves, and core, while mastering your stroke is excellent for developing ripped shoulder and arm muscles.
Soccer
A sneaky way to disguise a running workout, you'll benefit from exercising with your buddies on soft turf. Few activities tax the lungs and heart the way running does, so you'll reap the benefits of a monster aerobic workout while still honing your coordination and motor skills. The sport burns about 300 calories for every 30 minutes of field time.
Basketball
The quintessential pickup basketball game is so popular because it is both exceptionally simple (you just need a ball and hoop), and also enticingly precise (the satisfaction of hitting a three-pointer is hard to beat). The calorie burn is on par with tennis (roughly 600 an hour), but the rhythmic agility and closer physical contact of b-ball means you work a little more on balance and flexibility.
Volleyball
There are indoor leagues where you can play in a gymnasium in the winter, but nothing beats beach volleyball for that emotional, summer-is-finally-here high. (You don't have to live at the beach either, New York City has large courts in the middle of Central Park.) You'll burn around 400 calories an hour in this spirited game, developing shoulder and arm muscles, eye-hand coordination, and explosive power from your jump shots, all the while protecting your bones by landing on soft sand.
Baseball and Softball
Team camaraderie rules this sport, so if socializing is an important carrot for getting you to exercise, consider spending an hour or two, a few nights a week, in the dugout with your buds, swapping jokes and de-stressing while building a solid fitness base. The on-off nature of the sport means you burn fewer calories (around 350 per hour), but you'll get moderate cardio from running the bases, and reasonable upper-body strength from working on your swing.
Ultimate Frisbee
No longer the pastime of overgrown collegiates, ultimate frisbee is a legit sport recognized by the International Olympic Committee. More importantly, it is a game on nonstop running, leaping, reaching, and throwing. This full-body workout burns about 500 calories an hour, while developing reflexes, hand-eye coordination, and some serious tumbling skills.
Football
Strength, explosiveness, mental toughness and a desire to be pummeled by large men are at the core of this sport. In rec leagues, the physical contact is often moderated (see: flag football), so if you're looking for the adrenalin rush minus the bruising, know which rules you're playing by before you sign up. While calorie burn varies significantly depending on the position your play, you'll definitely benefit from an increase in strength, flexibility, and range of motion through warm-up drills and stretches.