What Parents Need To Know About Cardiac Arrest In Young Athletes
Following Bronny James' incident, a pediatric cardiologist puts the risk to kids in context.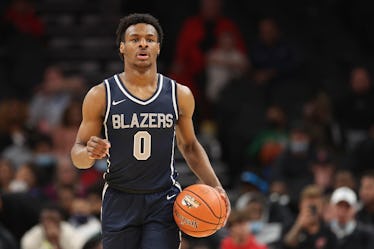 Christian Petersen / Staff / Getty
Earlier this week, LeBron James' son, 18-year-old Bronny James, suffered a cardiac arrest while practicing with his basketball team at the University of Southern California. After spending some time in an Intensive Care Unit, James is now out of the ICU and in stable condition.
This isn't an isolated incident. James isn't even the first young athlete on his team to experience cardiac arrest — last year, USC player Vincent Iwuchukwu suffered one at practice as well. According to the Mayo Clinic, sudden cardiac arrest is the number one cause of death in youth athletes.
So what is the correlation between intensive sports and heart health in kids and young adults? And what should concerned parents keep in mind? Here's what to know about what happened to Bronny James, how often such incidents like this happen, and what can be done to protect kids who may be at risk.
What Happened To Bronny James?
Bronny James suffered a cardiac arrest at USC basketball practice on Monday. He collapsed and lost consciousness during one of his routine training sessions at the University of Southern California, where he's committed to play for the Trojans starting next season, and was immediately rushed to the intensive care unit at Cedar-Sinai Medical Center, according to the Los Angeles Times. He was released shortly after in stable condition. Currently it's unclear what could have caused the cardiac arrest.
What Is Cardiac Arrest?
Cardiac arrest, also known as sudden cardiac death, is when the heart stops suddenly and unexpectedly, no longer pumping blood and oxygen to the rest of the body. It's imperative to treat a cardiac arrest immediately, as it can lead to death. Cardiac arrest is different from a heart attack, which is when the blood flow from the heart is obstructed. A heart attack can lead to cardiac arrest.
How Common Is Cardiac Arrest In Young Athletes?
Data from the Centers for Disease Control and Prevention (CDC) suggests sudden cardiac arrest in seemingly healthy individuals younger than 25 amounts to about 2,000 deaths each year. So while death due to cardiac arrest in youth is absolutely devastating, it's quite rare.
"The majority of those are probably 20 and above," says To Brian Blair, M.D. of Tucson Pediatric Cardiology in Arizona. "We do see some in kids younger than 18, but as you get younger and younger, it's more and more rare."
Contextually, there are between 300,000 and 450,000 deaths from cardiac arrest per year in the U.S. in all age groups, according to the National Institutes of Health. This means less than 1% of cardiac arrest deaths are in young people. "We're talking about very, very rare events," Blair says.
Research in 2016 found that athletes in the National Collegiate Athletics Association have a 1 in more than 53,700 chance of sudden cardiac death. However, the risk is not the same for athletes of all races: Black athletes from this cohort have a 1 in over 21,490 chance.
What Are The Causes And Symptoms of Cardiac Arrest In Youth?
In the case of Bronny James, it's still unclear what caused his cardiac arrest. Last year, football player Damar Hamlin similarly experienced sudden cardiac arrest, also known as cardiac death, according to ESPN. His case was due to an exceedingly rare event called commotio cordis, when a hard blow to the chest makes the heart stop.
"Typically, in a young person, there is some sort of either structural abnormality with the heart or electrical abnormality with the heart rhythm system that makes certain people predisposed to having to have a cardiac event," Blair says. "And those conditions are exceedingly rare."
Such conditions may include undiagnosed genetic conditions, defects in the way the arteries are latched onto the heart, defects in the thickness of the heart's muscle cells, and heart wall inflammation.
Common signs and symptoms of sudden cardiac death include chest pain, palpitations, a noticeable decline in the ability of an athlete to keep up, and fainting, adds Sean Levchuck, M.D., chair of pediatric cardiology at St. Francis Hospital in Long Island. "Any unusual cardiac symptoms should always be told to the pediatrician."
What Can Parents Do To Protect Kids Who Play Sports From Cardiac Arrest?
The best thing concerned parents can do for their little athletes is make sure they get a yearly physical with a pediatrician and any specialized sports physicals. Going for routine heart health screenings is important too, according to Levchuck, who runs a popular free cardiovascular screening program for high school athletes on Long Island.
"A simple screening with an EKG and an echocardiogram can prevent many of these tragedies," says Levchuck. "These should be done from 9th grade up," he adds, because one of the common causes of cardiac death — muscle cells in the heart thickening too much — frequently doesn't present until adolescence.
"If a screening is negative, the likelihood of an underlying cardiac disease is small, and the risk of sudden cardiac death is low," says Levchuck. "If the screening is positive, then obviously we would have to deal with the situation at hand, and strenuous sports would be prohibited."
Several local and state facilities offer free heart screenings for adolescents, such as the organization Heart for Athletes, the Cody Stephens Foundation, Championship Hearts Foundation, and the Peyton Walker Foundation.