New Research Finds Autism More Prevalent Than Expected
"Autism now is not something rare."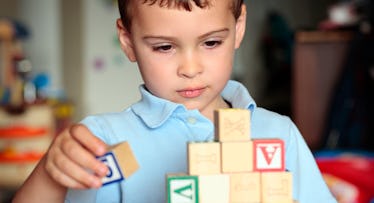 After rising precipitously over the past two decades, autism rates in the U.S. have stabilized, according to recent research. However, the same study finds that the overall prevalence of autism is much higher than expected, and the sudden plateau of new cases raises a ton of questions, as researchers aren't exactly sure what's to blame.
"Autism now is not something rare," study coauthor Wei Bao, an epidemiologist at the University of Iowa College of Public Health, told Health Day.
Previous research backs up Bao's assessment that present-day autism rates are surprisingly high, but whether or not they've spiked remains a matter of debate. Though estimates confirm that the prevalence of autism has more than doubled since 2000, skeptics argue that this is mostly because the criteria for diagnosing the condition has expanded and doctors have gotten better at diagnosing it. Other studies suggest that increased paternal and maternal age related to shifting cultural norms of marrying and parenting later in life have something to do with it. Some experts suspect it's likely a combination of these factors — and potentially others that have yet to surface.
Study Reveals Recent Trends of Autism Prevalence
For this study, Bao and colleagues surveyed 30,502 U.S. families from 2014 to 2016 about one of their children's health. Specifically, they asked parents if a doctor had ever diagnosed their child with autism, Asperger's disorder, pervasive developmental disorder, or autism spectrum disorder. Results revealed that overall autism rates were higher than the 1.46 percent projected by the Autism and Developmental Disabilities Monitoring Network, and came out to 2.4 percent on average.
While the final number is high, the rates from 2014 to 2015 only rose slightly, from 2.24 percent to 2.41 percent. Likewise, rates increased to 2.58 percent in 2016 – a 0.38 percent increase in two years. However, this increase was not statistically significant, and the implications are limited because the data did not include information about potential causes of autism and it didn't account for how those factors might have changed over time. For instance, increased parental age could be a variable influencing this plateau because people can only delay biological parenthood so long. However, without more research, there's no way to know for sure.
"Although it is encouraging that the prevalence of autism spectrum disorders is not increasing further, we don't have a good understanding of why the prevalence increased in recent previous years, and it remains concerning that the prevalence is as high as it is," Andrew Adesman, chief of developmental and behavioral pediatrics at Cohen Children's Medical Center of New York (who was not involved in the study), told Health Day. "It is hard to see a big increase or decrease over just three years. It is not safe to firmly conclude whether this really indicates stable or not."
This article was originally published on