WHO Said Asymptomatic People Don't Spread COVID — And Then Took It Back
Though the evidence hasn't proven it beyond doubt, asymptomatic people probably DO spread the coronavirus.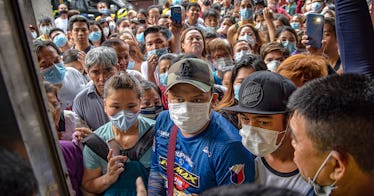 Getty
At a press conference held on Monday, June 8, 2020, the World Health Organization (WHO) got one thing right: COVID-19 is still raging and, from a global perspective, is worse than ever. But Maria Van Kerkhove, the COVID-19 Technical Lead at the WHO, also said that COVID-19 transmission from an asymptomatic person is "very rare." On face this sounds like great news: Suddenly the World Health Organization was seemingly saying that if it looks like you don't have COVID-19, you probably don't have COVID-19.
But then it all got taken back.
Experts took to Twitter right away to challenge the science behind Kerkhove's remarks. Their challenge worked. On Tuesday, Kerkhove walked back her statement at a briefing. "We don't actually have that answer yet," she said.
The WHO's original statement came from an analysis of contact tracing from member states, Van Kerkhove said Monday. With the data from the studies so far, "it still appears to be rare that an asymptomatic individual actually transmits [the coronavirus] onward to a secondary individual," Kerkhove said. Andy Slavitt, former Acting Administrator of the Centers for Medicare and Medicaid Services, posted on Twitter that the WHO told him in a follow-up email, "Current data suggests that while there are instances of asymptomatic coronavirus patients transmitting, they are not a main driver of new infections."
Kerkhove did not provide numbers or figures about the studies she based her statement on. However, there are several published studies that come to the opposite conclusion, that asymptomatic people are a significant contributor to the transmission of COVID-19. "Are infected people without symptoms an important cause of spread? My best guess: yes," said Ashish Jha, director of the Harvard Global Health Institute, on Twitter.
At the Tuesday briefing, Kerkhove walked back her statement. "Some estimates of around 40% of transmission may be due to asymptomatic, but those are from models, so I didn't include that in my answer yesterday," she said. Mike Ryan, Executive Director of the WHO's Health Emergencies Programme, added, "It's clear that both symptomatic and asymptomatic individuals are part of the transmission cycle. The question is what is the relative contribution of each group to overall number of cases."
About 40 to 45 percent of people with COVID-19 may be asymptomatic, according to a study published last week. The authors wrote, "The virus might have greater potential than previously estimated to spread silently and deeply through human populations." Asymptomatic people can transmit the virus for a long time, perhaps longer than 2 weeks, according to the study.
It's important to note that being truly asymptomatic is different from being presymptomatic, which refers to people with COVID-19 who haven't yet developed symptoms. Studies, some of which have not yet undergone expert review, have found that presymptomatic transmission accounts for anywhere between 23% to 62% of cases in certain cities. Being asymptomatic is also different from having symptoms so mild that a person thinks they are asymptomatic. The WHO acknowledged that they are unable to distinguish between asymptomatic people and those with very mild symptoms, according to Slavitt.
What this means is that even if you feel fine, you could have the coronavirus and transmit it to others — not just because asymptomatic people may spread the disease, but because presymptomatic people certainly can. You still have to wear a mask. Your kid still has to wear a mask. And you still have to social distance. Nothing has changed — except now we're going to be more skeptical of the WHO.