What Causes Food Allergies? Scientists Point to Junk Food
A key protein found in junk food could explain why peanuts are suddenly putting so many kids in the hospital.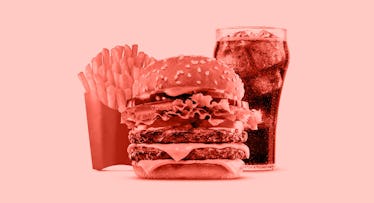 Kids these days may be more prone to food allergies because their diets contain more processed junk food than ever before, new research reveals. The findings, presented at the 52nd Annual Meeting of the European Society for Pediatric Gastroenterology, Hepatology and Nutrition, are the first to link the rise in childhood food allergies, which is particularly notable in the United States, to foods that contain what scientists refer to as "advanced glycation end products" or AGEs. That means junk food, everything from Snickers to Cheetos to microwave dinners.
"As of yet, existing hypotheses and models of food allergy do not adequately explain the dramatic increase observed in the last years — so dietary AGEs may be the missing link," study coauthor Dr. Roberto Berni Canani, a professor of pediatric gastroenterology at the University of Naples, said in a statement.
Food allergies have been steadily on the rise globally, spiking to a prevalence rate of up to 10 percent in some countries. This puts children in danger. In the United Kingdom, there has been a 500 percent increase in hospital admissions for food allergies since 1990. According to the Centers for Disease Control and Prevention, the incidence of food allergies in American children went up an astonishing 50 percent between 1997 and 2011.
Scientists have long been intent on solving the mystery of the allergy uptick. Theories floated in the past have largely pointed to early exposure to certain foods and bacteria. The new theory being push by Canani and his colleagues is that the prevalence of allergies may have more to do with a sharp increase in processed food consumption. More than half of the calories Americans consume currently come from processed food containing AGEs, which proteins or lipids already linked with diabetes, atherosclerosis, chronic kidney disease, and Alzheimer's disease primarily found in sugars, processed foods, microwaved foods and some roasted or barbecued meats.
To test the AGE-food allergy connection, researchers looked at data on 61 children between the ages of 6 and 12 years old, who represented three groups — kids with food allergies, kids with respiratory allergies, and kids who did not have any allergies as the control group. The findings indicated a strong correlation between AGE consumption and food allergies. Children with food allergies similarly had higher levels of AGEs compared to children with respiratory allergies, and those with no allergies at all. Scientists now hypothesize that AGEs may directly trigger food allergies, but further research is needed to prove that theory out.
"Our study certainly supports this hypothesis, we now need further research to confirm it," Canani added. "If this link is confirmed, it will strengthen the case for national governments to enhance public health interventions to restrict junk food consumption in children."
In the mean time, junk food will remain a ubiquitous temptation. As such, there is now a sense of urgency to this work. It is possible that allergies can be avoided if and when researchers are able to present more complete findings. Isabel Proaño, the Director of Policy and Communications at the European Federation of Allergy and Airways Diseases Patients' Associations, has already said that the new research calls for urgent further work.
"Healthcare professionals and patients do not have all of the important information to face a disease that dramatically impacts their quality of life, and industrialized food processing and labelling gaps will not help them," Proaño said. "We call on the public health authorities to enable better prevention and care of food allergy."
This article was originally published on