The Tick-Borne Illness That Could Be Worse Than Lyme Disease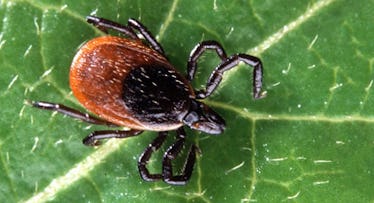 Wikimedia Commons
Spring is has sprung—the U.S. tick population is thriving, and the Centers for Disease Control and Prevention predicts that 2017 will be the worst year for Lyme Disease yet. But that's not the only thing that might keep you out of the woods. The uptick in ticks could also increase transmission of Powassan (POW) virus, a disease that can be even more dangerous than Lyme but that, until recently, seldom infected species that bite humans, such as deer ticks.
Until now. "It's no longer a disease that's just caused by a tick species that hardly ever bites people," Durland Fish, professor of epidemiology and microbiology at the Yale School of Public Health, told the Today Show. "Now it's being transmitted by a tick species that bites people readily. And that's not good. This is a disease that there is no treatment for and that you can die from."
Unlike Lyme Disease, which can take ticks a full day to pass on to their hosts, POW can be transmitted in just 15 minutes. After an incubation period of anywhere from one week to one month, patients experience symptoms such as fevers, headaches, vomiting, weakness, and confusion. In extreme cases, POW can attack the central nervous system, leading to seizures, encephalitis, meningitis and, for 10 percent of those infected, death. Half of all POW survivors suffer from long-term neurological damage, along with recurring headaches and memory problems. And, as CDC cheerfully puts it, "there are no vaccines or medications to treat or prevent POW virus infection."
That deer ticks now carry POW (and enjoy biting humans) is relatively clear, but the magnitude of the problem is subject to some debate, according to The Today Show. While one study from Maine Medical Center Research Institute suggests that 7 to 10 percent of deer ticks now carry the virus, researchers at Columbia University suspect those figures are closer to one or two percent. But even by conservative estimates, POW could ruin a perfectly good hiking trip.
"It's a really nasty disease. It is not something you ever want to get," Dr. Richard Ostfeld, disease ecologist at the Cary Institute of Ecosystem Studies in Millbrook, New York, told Huffington Post. "This is definitely a disease that public health officials and ecologists need to keep their eyes on." All the more reason to bathe loved ones in bug spray.
This article was originally published on