Study Says Kids Age 10 and Up Spread COVID At Least as Much as Adults
Reopening schools — including elementary schools — will almost certainly cause COVID-19 outbreaks.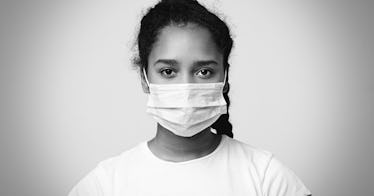 The results are in from the most reliable study to date about how kids spread COVID-19, and they're not good. Past data was mixed, with most experts saying that children were probably less likely to transmit the coronavirus. But kids ages 10-19 are just as likely to transmit the disease as adults, if not more, according to the new study. That means sending pre-teens and teens back to middle and high school is a major public health risk. 5th graders are also in this age bracket, so not even elementary schools will be spared by the return to classrooms this fall.
The big fear of sending children back to school is not the kids' health. Most young people don't get very sick with COVID-19, and even fewer die, especially compared to adults. But some will, and that risk is too big for parents who are deciding to keep their kids home. Still, the biggest risk is for the adults the kids interact with — bus drivers, teachers, cafeteria workers, and, of course, parents — who are more likely to get seriously ill and die from COVID-19.
This fear is not exaggerated, as made clear by the new study. Researchers identified the first person in a household to show COVID-19 symptoms, then tested that person's contacts — all household members and symptomatic contacts outside the household — to determine how many people that first person likely spread the disease to. They found that children age 10-19 infected 18.6 percent of their contacts, the highest of any age bracket. But the study, which took place in South Korea from late January to late March and included 65,000 participants, was unable to detect how often asymptomatic kids spread the disease, leaving this crucial question unanswered.
If children return to schools, "there will be transmission," Michael Osterholm, director of the University of Minnesota's Center for Infectious Disease Research and Policy, told the New York Times. "What we have to do is accept that now and include that in our plans."
The researchers also found that children under age 10 were half as likely as adults to spread COVID-19 to their contacts. But this good news isn't as good as it seems. The data comes from a time of school closures in South Korea. Within schools, however, younger kids have dozens of contacts, so they could infect as many people as adults despite being less infectious, according to the Times.
The reason younger kids spread the virus less may be that they're shorter, so they spew droplets containing the virus below where most people are likely to breathe them in. Kids may also expel less air and thus less virus, and they may also not see their friends as much as teenagers do during quarantine. In contrast, teens are as big as adults, yet they have many of the unhygienic habits of young children. "We can speculate all day about this, but we just don't know," Osterholm said. "The bottom line message is: There's going to be transmission."
Still, the American Academy of Pediatrics advises that schools develop their fall plans with the ultimate goal of getting kids back in front of teachers — though not where local health officials say it's too dangerous. The National Academies of Sciences, Engineering, and Medicine also urges schools to prioritize getting kids in grades K-5 back to class in person. Though elementary school-age students have a harder time learning online and a lower risk of spreading COVID-19, the risks are nonzero. And many are still unknown.