Ryan Reynolds Has 5 No-Nonsense Tips For New Dads On Delivery Day
Signed, stamped, delivered.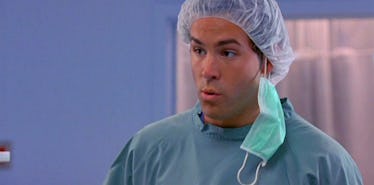 No matter how many hospital bags you pack, lamaze classes you take, or doulas you call dirty hippies under your breath, nothing really prepares you for the birth of your first kid. But, back in February actor Ryan Reynolds at least tried to caution you against playing Marvin Gaye's "Let's Get It On." Now fresh off the birth of daughter number 2, he has plenty more sage-ish delivery advice where that came from.
The video, courtesy of GQ, features Daddy Deadpool himself and his "5 Delivery Room Tips Every Man Should Know." Leading off with the most basic, "Be in the room, you're not Don Draper," the list reads as more of a guide to what not to do. Sadly, Reynolds had no advice for avoiding all the gray and white hair he's seemingly sprouted overnight. Either parenting ages everyone rapidly, or he dyed it for a movie role. Father Time will tell.
To be fair, the clip offers more comic relief than logistical. You can supplement that with these actual tips for the delivery room, as well as a guide to all the possible complications that could come up. But, if you were a model student in birthing class and laughs are all you're looking for, follow Reynolds on Twitter along with these fellow funny fathers. Hopefully by the time he gets to his third kid, he'll have figured out a way to un-see his wife pooping during it — because that's something you can use.
[H/T] GQ
This article was originally published on