Parents Shouldn't Worry About Vaccines Failing. This Is How Science Works
AstraZeneca's coronavirus vaccine may have caused a serious reaction in a volunteer. But that's why we run trials.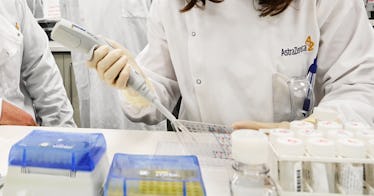 GETTY
A coronavirus vaccine trial run by AstraZeneca was paused on Tuesday after a participant became seriously ill, possibly as a reaction to the vaccine. But this shouldn't freak you out, experts say. A trial halted for this type of safety concern doesn't mean we won't get a coronavirus vaccine or that it will be unsafe when it arrives. In fact, it means vaccine companies are taking safety seriously. And that's just about the best thing we could hope for.
"This is an example of the kind of thing that you do to make sure we're dealing with a product that's safe," Anthony Fauci, the top infectious disease specialist in the country, told CBS This Morning.
No one knows whether the trial volunteer's "adverse event" is due to the vaccine or something unrelated. But these types of serious injuries during a trial are generally unrelated to the vaccine, Fauci said.
The trial participant who fell ill was a woman taking part in a Phase 2/3 trial in the United Kingdom, said AstraZeneca CEO Pascal Soriot on a conference call with investors, reported Stat News. The woman's symptoms line up with transverse myelitis, a rare inflammatory condition that impacts the spinal cord and is often caused by viruses. Though she has not yet been diagnosed, the woman's condition is improving, and she will probably be able to leave the hospital as soon as Wednesday, Soriot said. Most people with the condition recover at least partially.
Though this rare side effect of the AstraZeneca coronavirus vaccine may be a fluke, mild to moderate side effects are common with this coronavirus vaccine. About 60 percent of volunteers who received it reported symptoms such as fever, headaches, and muscle pain, according to a study published in July. However, the symptoms are benign enough that the company decided to press on.
Until now. AstraZeneca will stop recruiting volunteers and administering dosages to enrolled participants until the trial is resumed — if it's resumed. It's unclear how long that could take. AstraZeneca is one of the three companies with late-stage vaccine trials running in the U.S. It's also the only one that has enrolled children in a coronavirus vaccine trial as of mid-August. It enrolled a small number of children between the ages of 5 and 12 for the phase 2 safety trial at the University of Oxford.
The pause in the trial could delay not only approval of AstraZeneca's vaccine, but also other companies' as they search their databases for similar complications. Front-runner Moderna, however, says it's not slowing down its trials.
So really, you shouldn't be worried. The delay — or even failure — of one vaccine trial is not a sign that we're rushing too fast or that coronavirus vaccines will cause awful side effects when released out in the world. This road bump is a normal part of making a vaccine. And experts are looking into it to make sure that when the time comes, whatever vaccine that becomes available will be safe for you and your family.