Parents Aren't Preparing Holiday Babysitters for Dangerous Emergencies
More than half of parents fail to leave their own phone number, a new poll reveals.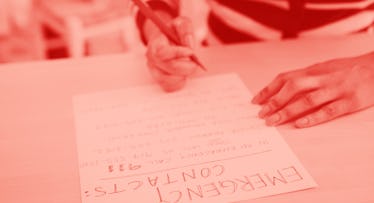 The holidays are a special time of year for childcare where parents are often required to rely on secondary options as daycares, preschools, and full-time nannies take off for a break. Perhaps distracted by all their other seasonal preparations, parents seem to be falling short in terms of preparing holiday babysitters for emergency situations, according to a National Poll conducted by the C.S. Mott Children's Hospital at the University of Michigan.
"Parents often need extra babysitting help around the holidays when childcare facilities are closed and regular babysitters are less available," Mott poll co-director Sarah Clark said in a statement.
When Clark and her team surveyed 386 parents of children under the age of 5, they found that a majority failed to post crucial emergency contact information, including their own work or cell numbers. Specifically, 52 percent did not post their numbers, 53 percent did not post the number for the child's doctor, and 58 percent did not post the number for a secondary emergency contact, such as another family member or friend. More shocking, the further away parents lived from the ER, the less likely they were to provide this important information.
To get a sense of how caretakers would respond in absence of this information, Clark also polled 546 adults without children about how they would respond if they were babysitting when various emergencies occurred. Results revealed that non-parents were generally all over the map about what to do — 18 percent said they'd take a child directly to the ER for a minor burn, whereas if a child swallowed medication, nearly half of adults said they'd just call poison control instead of going to the hospital immediately.
Clark noted that part of the reason parents may not follow typical protocols during the holiday season is not that they're stressed out or distracted, but they rely a lot on family and friends for supplemental childcare during this time. And sure, they may already have the parents' cell numbers in their phones, but taking the extra steps to give babysitters multiple emergency options and clearly communicating what you want them to do in specific crises could make a big difference if something goes wrong.
"Babysitters may face a wide range of situations while watching for a child, from common injuries to more severe emergencies," Clark said. "Parents should be thoughtful about the guidance they give to make sure sitters are prepared."
This article was originally published on