Online Abortion Services Could Save Lives
Some 47,000 women die every year due to lack of safe early-term abortion services.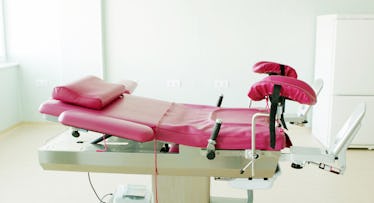 The World Health Organization estimates that 47,000 women die every year due to lack of safe and legal abortion services. Now, research suggests that online telemedicine, an innovative technique that involves clinicians prescribing medication and monitoring patient health via the Internet, could quickly lower that death toll. The study, published in The BMJ, found that 95 percent of women who received the early-term medical abortion drugs mifepristone and misoprostol through a telemedicine clinic ended their pregnancies without serious incident and shed light on how physicians can offer remote family planning services in countries–or potentially states–with strict abortion laws.
"This study provides the best evidence to date that medication abortion conducted entirely outside the formal healthcare system in a country where abortion is illegal can still be safe and effective," coauthor Abigail Aiken of The University of Texas at Austin, told Fatherly.
For the study, Aiken and her team offered online consultations and prescriptions for abortion drugs to 1,636 women living in the Republic of Ireland and Northern Ireland, where abortion laws are among the most restrictive in the world. The women were then medically monitored through Women on Web, an online collective of doctors, researchers, and women who have had abortions who are available for medical advice. Fewer than 10 percent of the women reported symptoms of a potential complication, and roughly one third of those women required treatment. Overall, 95 percent of women who were advised by online clinicians to seek local medical care did so promptly.
These results are promising, because they suggest that women living under strict abortion laws are, with the help of telemedicine, about as likely as women living in more liberal countries to follow-up in the event of a complication. "The worry is that women who experienced symptoms of a potentially serious complication might not have sought in-person medical attention when advised, for fear of judgment or being reported to the authorities," Aiken said.
At the same time, Dr. Daniel Grossman, director of the Bixby Center for Global Reproductive Health, who was not involved in the study, told Fatherly that it is difficult to generalize the findings. Do the results, for instance, apply to sub-Saharan Africa, where follow-up care can be harder to come by? That's not yet clear.
"Despite these limitations," Grossman says. "This is strong evidence about the effectiveness and safety of telemedicine provision of medication abortion."
As for the United States, online abortion has not quite taken off—the FDA still requires mifepristone to be dispensed by a doctor, hospital, or clinic in-person (despite the drug's safe record). Perhaps this study will reinforce the idea that early-term medication abortions are the sort of thing women can manage on their own, albeit with occasional remote telemedicine consults. "The study shows that women are highly capable of self-reporting on their own health, managing their own abortions, and seeking in-person medical attention when the need arises," Aiken says.
This article was originally published on