1,000,000 Kids Have Been Diagnosed with COVID-19. Pediatricians Are Concerned
Most kids don't get seriously sick with COVID-19, but that doesn't mean they're safe from the illness.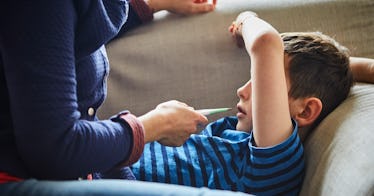 More than 1,000,000 children have been diagnosed with COVID-19 as of Nov. 12, according to the American Academy of Pediatrics. In the week of November. 12 alone, the number of child cases was easily the highest since the beginning of the pandemic, with almost 112,000 kids testing positive for COVID-19. As the U.S. plunges into winter — and holidays like Thanksgiving and Christmas — those numbers are only going to climb to new heights.
Luckily, most children who come down with COVID-19 don't get very sick. Last week, 0.5%-6.1% of children diagnosed with COVID-19 were hospitalized in New York City and the other 23 states that reported this data. Less than 0.15% of children with COVID-19 died in every state and city that reported deaths by age.
Since the beginning of the pandemic, only 81 children aged 14 and below have died of COVID-related complications, according to the Centers for Disease Control and Prevention. However, the long-term effects of COVID-19 in children are unknown.
Despite low hospitalization and death rates, the AAP report clearly shows that kids are not unaffected by the disease. "This pandemic is taking a heavy toll on children, families and communities, as well as on physicians and other front-line medical teams," Sally Goza, the president of the AAP, said in a statement. A total of 1,039,464 have been diagnosed with COVID-19, and many more have probably gone undiagnosed. "As a pediatrician who has practiced medicine for over three decades, I find this number staggering and tragic," Goza said.
Children are more likely to be asymptomatic and therefore less likely to be diagnosed with COVID-19. With that in mind, children accounted for 11.5 percent of all cases, in states that report cases by age. States vary in their age cutoff of who is considered a child.
"We haven't seen a virus flash through our communities in this way since before we had vaccines for measles and polio," Goza said. "Most natural disasters have an end, but this pandemic has gone on for over eight months, and is likely to continue to disrupt our lives for many more. We're very concerned about how this will impact all children, including toddlers who are missing key educational opportunities, as well as adolescents who may be at higher risk for anxiety and depression."