Kids Under 5 Can Technically Get the COVID Vaccine Off-Label. So Why Aren't They?
Technically, it's legal, even if the vaccine isn't authorized for them yet. So why aren't kids getting it?
by Jocelyn Solis-Moreira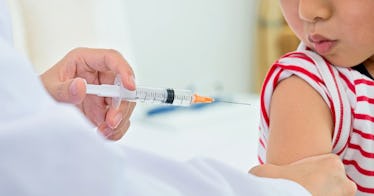 baona/Getty
While American adults are signing up for boosters, parents of kids under age 5 are still waiting to hear when their child will be eligible for the COVID vaccine. Luckily, it now looks like the vaccine could be available to them by the end of February. But for parents who wanted to get their kids vaccinated yesterday, especially with Omicron on the loose, the next month or so of the COVID-19 pandemic promises to drag on. If they could get the vaccine off-label in the meantime, it would be a major relief. And although it's technically allowed and some experts advocate for it, off-label COVID vaccine use just isn't happening.
Off-label drug use means using a treatment or medication in a way that is not authorized or approved by the Food and Drug Administration (FDA). Off-label use is common and not illegal in the slightest. About 1 in 5 prescriptions are given for off-label use.
So why aren't doctors offering this option when it comes to the COVID vaccine? Two experts with opposing viewpoints lay out the arguments.
Argument Against Off-Label Vaccine Use
The Centers for Disease Control and Prevention (CDC) and the American Academy of Pediatrics (AAP) discourage off-label COVID vaccines for children, even though drugs are commonly used off-label. The reason why? Sharon Nachman, M.D., Chief of the Division of Pediatric Infectious Diseases at Stony Brook Children's Hospital, argues that there's not enough data to know what dose is effective and safe for children under 5.
"Adult and child doses are different amounts," she says. "You can't just take the adult dose, divide it by a third, and use that as a vaccine for children."
A recent commentary from the AAP explained that off-label uses are commonly reviewed for different health conditions than what's approved, not different ages. Similar to how vaccine side effects differ between adults and teens, the response in kids under 5 might differ from older kids.
And children younger than 5 might require a different dosage or vaccine schedule. Pfizer is testing a third shot because the first two may not provide adequate protection for kids aged 2 to 5.
"We don't yet know what's the right dose, the vaccine schedule, and the safety risks from the dosing amount," Nachman says. In other words, the problem with using the COVID vaccine off-label is the unknown.
Argument for Off-Label Vaccine Use
Shannon Fyfe, Ph.D., a philosophy professor and fellow in the Institute for Philosophy and Public Policy at George Mason University, argues that off-label vaccination should be an individual choice decided between a child's doctor and their parents.
But right now, that's usually not possible. Doctors aren't offering off-label use of the COVID vaccine because of the blowback they'll receive from the CDC, Fyfe says.
"The CDC has a vaccine provider agreement that sets the terms and conditions for the use of federally purchased COVID-19 vaccines. But this agreement says that administering vaccines to individuals younger than the ages for whom the FDA has approved or authorized use is prohibited," she says. "They have not done that before."
If a medical professional violates the provision, the CDC may revoke their privileges to administer the vaccine and deny them reimbursement for the vaccines. Fyfe says the CDC has not disclosed any reason for limiting off-label use.
Regarding the AAP commentary, Fyfe suggests the organization may be concerned that pediatricians will face legal liabilities for administering unauthorized vaccine doses. However, she argues that professionals can come up with dosages based on the data currently available.
"For ages 2 to 5, Pfizer said there wasn't a sufficient immunological response with the three microgram dose, but there were no safety concerns. A pediatrician might want to still give [the dose] because it's worth some protection," Fyfe says. Another option is a six microgram dose because the low risk of side effects will likely not change since this is still a fairly low dose. (Adults receive a 30 microgram dose.)
Giving kids the vaccine off-label benefits everyone, Fyfe argued in a recent essay. Vaccination can form another layer of protection to keep children in daycare or school in-person while protecting those who are medically vulnerable. On an individual level, the lack of off-label use disproportionately harms children who are high-risk and who stand to benefit the most from the vaccine.
Alternatives to Off-Label Use of COVID Vaccines
Off-label use is not the only way to get a vaccine into the arms of children under age 5. Another way is to enroll your child in a COVID vaccine trial. Although this option is always open, Fyfe says the chances of getting accepted into a trial are slim, and there's also the possibility your kid could receive a placebo.
Another option is to apply for expanded access/compassionate use. Patients can apply for preapproval of an experimental drug when clinical trials are not available and current treatments are not sufficient.
However, Nachman says the chances of getting accepted for expanded access are low because not all other options have been exhausted. "It's not like vaccines are all or nothing," she says. "There are other measures to protect a child, such as letting them near only vaccinated people and making them wear a mask when they're out of the house."
If that makes you roll your eyes, you're not alone. But hopefully, the vaccine will be authorized for the under-5s soon, and you'll be able to feel safer going forward in the pandemic.
This article was originally published on