The New Rules of COVID Testing for Kids and Parents
With Delta on the loose and vaccinations slowing, the rules of COVID testing have changed. Here's the new guide to testing for parents.
by Donavyn Coffey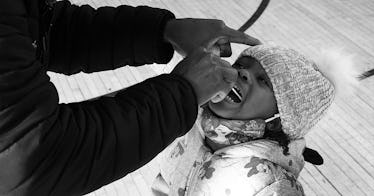 COVID cases are climbing in kids just as they're heading back to school. Nearly 94,000 kids tested positive for COVID the week ending August 5, largely due to the highly contagious Delta variant. That's 31 percent higher than the 72,000 new cases in children reported the previous week. The positive test rate was between 4.8 and 17.6 percent in 11 states that reported that data. Earlier in the COVID-19 pandemic, New York kept schools closed until that rate fell below 5 percent. But now schools are opening in person, many without mask requirements or virtual school options.
"I would feel very uncomfortable sending my child to school without knowing that everyone was masked, and without knowing that all teachers were vaccinated," Paul Offit, MD, Director of the Vaccine Education Center and an infectious disease specialist at the Children's Hospital of Philadelphia, told Fatherly.
So as your kid heads back to the classroom, surrounded by unvaccinated peers that may not be wearing masks, how often should they get tested for COVID? Is there such a thing as testing too much? Here are the rules of the road for this unsure time.
Rule #1: If You're Sick, Get Tested
For the unvaccinated, "most testing guidelines haven't changed since last year," says Chris Peltier, MD, a pediatrician and Director of General and Community Pediatrics at Cincinnati Children's Hospital. The Centers for Disease Control and Prevention (CDC) still recommends that unvaccinated kids and adults who have COVID symptoms get tested.
If an unvaccinated child is sick, they should get a COVID test and quarantine, no matter if they have a known exposure or not, Peltier says. If they haven't been exposed to COVID and if they test negative, they can return to school once their fever falls below the standard set by their school district.
If you're fully vaccinated (at least two weeks out from your last injection) and come down with COVID symptoms, get tested and quarantine until you receive your results.
Rule #2: If You're Exposed to COVID, Get Tested
Whether or not they have symptoms, kids and parents need to get tested and quarantine if they've been in close contact with a person who tests positive for COVID, meaning that they have spent 15 minutes within six feet of them. Quarantine times vary from state to state, so check with your local health department. Generally, they can be as long as 14 days or as short as seven, if they test negative on or after day five.
If you're exposed or sick but believe the rest of your household hasn't been exposed, isolate yourself from them by keeping your distance, wearing masks, and having separate mealtimes, says Lara Danziger-Isakov, MD, MPH, an infectious disease specialist at Cincinnati Children's Hospital. "We appreciate this is exceptionally difficult when families are in small spaces," or when parents have young or disabled children, but it's necessary to keep them healthy, she says.
If a person is fully vaccinated and has been exposed to COVID but doesn't have symptoms, the CDC recommends they be tested three to five days after exposure. During the interim, they can do what Peltier calls a "modified quarantine." They can leave the house, but they should be masked around other people and at home if the rest of the household hasn't been exposed.
Rule #3: If You're Unvaccinated and Out and About, Get Tested Regularly
The CDC recommends that people who aren't vaccinated get tested after they've been in a high-risk situation. This could include traveling, attending large social gatherings, or visiting crowded, poorly ventilated indoor areas.
In other words, if you're out in the world and not vaccinated, get tested when the situation calls for it.
Rule #4: Don't Second-Guess School Testing
Experts agree that there's no need for you to regularly test or screen your children — vaccinated or not — for COVID. That's a strategy for schools, colleges, and local health departments to organize. "Some schools are doing it in a controlled way," Danziger-Isakov says. But it's best for individuals to avoid testing independently and randomly, especially when they might not be sure how to interpret the results, she says.
The purpose of screening is to pinpoint asymptomatic people and stop them from spreading COVID in high-risk environments. It's not a good approach for individual protection or prevention. A negative screening test on Monday doesn't mean you're safe and COVID-free for the week, or even for the rest of the day.
The good news for this school year is that the COVID vaccine is available for students 12 and older. Experts suspect that it will be available for younger kids in fall or winter. But unlike last year, many children won't have the protection of a mask when they go back to the classroom as many schools have dropped their mask requirements.
That doesn't have to stop your child from wearing a mask in school. As a parent, modeling good masking practices is among the best things you can do to support your child during the upcoming semester. "The more safety behaviors we model and normalize for our kids, the safer they can be at school," Danziger-Isakov says.
This article was originally published on