The Mustard Challenge Seeks Safer Treatments for Kids With Cancer
Surprisingly, a pediatric cancer will leave a bad taste in your mouth.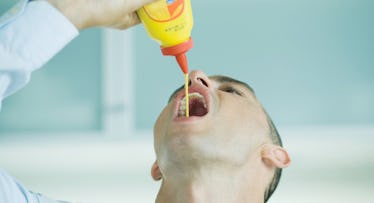 The Ice Bucket Challenge raised $115 million for ALS research when it blew up in 2014. Now, the death of 11-year-old Naya Summy is inspiring a new challenge. Spearheaded by the Summy family's No More Kids With Cancer charity, the Mustard Challenge is meant to raise awareness about pediatric cancer and money for research into new treatments. And the choice of condiments isn't random or innocuous: Amy Summy, Naya's mother, came up with the idea after learning her daughter was treated with drugs that contained some of the same chemicals as mustard gas.
The challenge is — as challenges tend to be — simple for anyone without an allergy. Participants eat a spoonful of mustard, share the moment on social media using the hashtags #MustardChallenge and #NoMoreKidswithCancer, then challenge four friends to do the same within 24 hours or make a donation. It's not the first time a cause has tried to replicate the success of the Ice Bucket Challenge, but past attempts like the Rice Bucket and Fill the Bucket challenges did not get the same traction. Still, the Mustard Challenge has already gained attention from celebrities like former NBA star David Robinson, so it is off to a strong start. And the goal feels attainable: The Summys hope to raise $6 million to put towards the pursuit of safer and more effective treatments by August 5, National Mustard Day.
Naya herself began fundraising for The Children's Hospital of Philadelphia when she was first diagnosed with high-risk medulloblastoma back in 2013. Before she passed away 22 months later, she asked her family to continue her efforts. They're committed to doing just that, one spoonful at a time.
This article was originally published on