Prepare to Mask Up for Another Year — Yes, Even After You Get the Vaccine
Vaccinated people may still be able to spread COVID-19, and not taking precautions could mean passing the coronavirus to vulnerable children.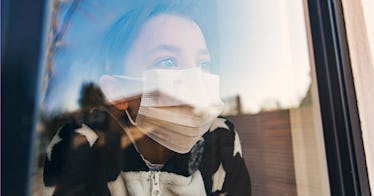 Kids aren't getting vaccinated any time soon. For one, COVID-19 vaccines have only been tested in adults. And children generally don't get severely ill with the virus, so they're a low priority group for vaccination. But the vaccine will still benefit kids. When adults get vaccinated, it should help keep kids safe. But they're still going to have to mask up.
Why? Pfizer and Moderna haven't investigated whether their vaccines reduce coronavirus transmission, and it's scientifically possible that they won't. Vaccinated adults will need to keep wearing a mask and social distancing to keep unvaccinated people safe — including children. After all, more than 1.4 million kids have had COVID-19. Also, we don't know if you can spread COVID-19 after vaccination.
The Pfizer and Moderna vaccines are great at preventing people from getting sick with COVID-19 — they're both about 95 percent effective. But the company's researchers didn't test trial participants without symptoms, so we have no idea how many people who received the vaccine ended up getting infected and being asymptomatic. This means that some people who get the vaccine could become infected and transmit the virus to others. We just don't know how common this is.
"Preventing severe disease is easiest, preventing mild disease is harder, and preventing all infections is the hardest," Deepta Bhattacharya, an immunologist at the University of Arizona, told the New York Times. "If it's 95 percent effective at preventing symptomatic disease, it's going to be something less than that in preventing all infections, for sure."
When a person gets vaccinated, their immune system revs up and produces antibodies. If the coronavirus makes its way into their body afterward, the antibodies can fight off the virus so the person doesn't get sick. Some of those antibodies will make their way to the nose — the main entry site for the virus. However, there may not be enough antibodies there to fight off the virus, according to the Times. The coronavirus could replicate in the nose, and when that person breathes or sneezes, they could spew virus into the air.
"It's a race: It depends whether the virus can replicate faster, or the immune system can control it faster," Marion Pepper, an immunologist at the University of Washington in Seattle, told the Times. "It's a really important question." A question that we don't yet have an answer to.
Since we don't know how much vaccinated people cause asymptomatic spread, it's best to err on the side of caution until that data is available. "Eventually I think we won't, but I think until we know that this vaccine is working, we are going to have to wear a mask," Dyan Hes, a pediatrician in private practice, said on CBSN.
Kids probably won't be able to get the vaccine for many months. First, trials must show that the same vaccines that worked in adults are also safe and effective in kids. The companies may also need to adjust the dose. Pfizer started testing the vaccine on children as young as 12 in early October, and Moderna will soon follow suit. Once they receive results for this age group, the companies can start trials with younger children. But that will take time. Depending on when the vaccines are cleared for kids, they still may be unable to get them since children are low on the priority list. By the start of next school year in fall 2021, children probably still won't have access to COVID-19 vaccines.
Most kids don't get terribly sick when infected with the coronavirus. But that's not a guarantee. Some children have been hospitalized with multisystem inflammatory syndrome related to COVID-19. Others have died from complications related to the coronavirus. Even asymptomatic children are affected by the mental stress of isolation at home while they're contagious. Kids aren't the main victims of the disease, but it's still imperative to keep them safe and COVID-free.
And kids' safety depends on whether vaccinated adults act responsibly. If they go back to normal life, kids will have to pay the consequences. It may only take a few weeks for researchers to figure out if the vaccines prevent transmission, a Moderna representative told the Times. After then, we will have a clearer picture of whether masks and social distancing are necessary post-vaccine.
In the meantime, if you qualify for the first few waves of vaccination, keep up your guard. Your kids will thank you for it.