Why Are Liquor Stores Essential Services? For Public Health.
If liquor stores don't remain open, people die because there's nowhere else for alcoholics to go.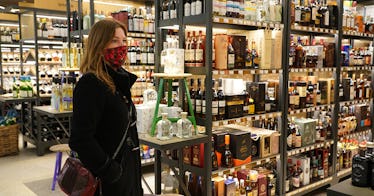 Getty
In the first few weeks of the pandemic, alcohol sales exploded. At the end of March, overall alcohol sales had spiked by 55 percent, spirits jumped 75 percent, wine sales up 66 percent, and beer sales, 42 percent. Don't chalk it up to panic-buying. As of June, alcohol sales had a month over month growth of 27 percent. In all of 2019, the hard seltzer industry had made $1 billion. In just the three months between March and May, the industry had made $1.5 billion. It's safe to say that people aren't just stocking up. They're also drinking more.
The decision to consider alcohol-based businesses like liquor stores an essential business is actually a public health choice. Alcohol kills through withdrawal, a fact you might have learned from Amy Winehouse's death. Many hundreds of thousands of Americans could die the same way if alcohol retailers were to suddenly shut down without notice. Some 12.7 percent of Americans struggle with alcoholism. At least 50 percent of those folks will experience withdrawal symptoms — which can start with delirium and end in fatal seizures. It's no wonder governors chose to keep liquor stores open. It keeps hospitals clear and helps limit preventable deaths.
But even among those lawmakers who understand why alcohol is a necessity and keep the stores open in their states, the whole situation is a sign that American lawmakers have a limited moral imagination when it comes to harm reduction and addiction care more broadly.
In the United States, less than 10 percent of people with alcohol use disorder receive medications like naltrexone and acamprosate that can help with withdrawal and cravings. Because so few folks can actually get access to the drugs, people have to deal with their addictions on their own. This is certainly better than closing liquor stores in general, which can lead addicts to try to manage their addiction and survive by drinking non-potable liquor products like mouthwash and hand sanitizer, but it's not a public health program. Look north to Canada and you'll find managed alcohol programs (MAPs) for addicts to continue to have access to alcohol in a medically managed way. Like methadone clinics, MAPs give addicts with AUD a supervised amount of alcohol under medical supervision. There are no MAPs in the United States. Addicts are left to drink on their own.
This can be particularly dangerous during hard times like a pandemic. Research has shown that in times of mass trauma — like in the aftermath of terrorist attacks, mass shootings, natural disasters, or even the 2008 financial crisis, people drink more alcohol, more frequently. 9/11 was associated with binge drinking and then, later on, higher odds of alcohol dependence.
But beyond the mass hardships, individual hardships — like losing your job or a person you love passing away — can also lead individuals to hit the bottle to cope. COVID-19 is, as we well know now, a double whammy. Many millions of people have lost loved ones and their jobs and have to deal with the stressors of living in a pandemic. Americans are absolutely using alcohol to cope with COVID-19 and it's hard to blame them: although an unhealthy coping mechanism, it's socially acceptable and accessible. Hey, the liquor stores are open!
At the end of the day, it's not too surprising that the American government hasn't done more for Americans with AUD. In general, addiction management services are scant and lawmakers, despite pleas from harm reduction specialists and public health policy shakers, have been so-far loathe to provide services like MAPs or, for heroin addictions, safe injection sites, despite the fact that they are proven to reduce the harms of addiction.
Prohibition is not the answer. And, in fact, deeming alcohol an essential service can save lives. How lucky you are if you're an addict right now depends on what state you live in: while New York deemed liquor an essential service, Pennsylvania did not. These decisions have enormous consequences. But keeping liquor stores open isn't a system — it's a desperate measure. What is needed is a meaningful system to help those with alcohol use disorder in the United States. Until we have this in place, liquor stores will indeed be the only hope for a great number of struggling Americans. There's a better way.