Why Some of the Most Crowded Cities in the U.S. Are the Loneliest
Research on community engagement suggests that people in cities may struggle with it the most.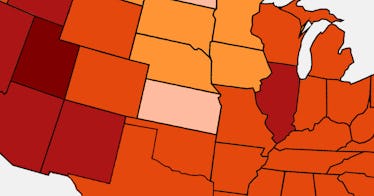 People living in the most crowded cities in the U.S. may be some of the loneliest individuals in America. Despite having a population of more than 3 million, for instance, the people of San Diego California report one of the lowest rates of interpersonal interactions in the country. The residents of Nassau County, New York are not far behind.
Studying why social isolation happens, and how to prevent, is a public health priority. Studies suggest that patients who report being socially isolated are at increased risk of dying and suffering from heart disease, and that those who live in regions known for high levels of social trust tend to report being physically healthier than others. Here is a map of social interactions, by state. Utah reported the fewest social interactions per 1,000 citizens. Washington D.C., the most.
These figures come from the Community Health Rankings and Roadmaps data, which was recently cleaned and incorporated into a study that attempted to predict county-by-county mass shooting risk. Collecting data on social interactions by state and county involved looking at the number of connections people had to organizations such as golf clubs, fitness centers, bowling centers, and civic, religious, political, and professional organizations. Fatherly analyzed the data and created this map by averaging social interactions per county, across each state. Data for Florida was unavailable.
Analyzing the raw data from the mass shooting study, Fatherly found that San Diego had among the lowest social association rates, less than half of the average. With a population of nearly one million people, Honolulu and Nassau County were in essentially the same position. The surprising implication is that some of the most crowded cities in the U.S. may also be the loneliest. But the researchers caution that their data does not directly measure social isolation.
Social associations are a helpful metric because they "can be considered a proxy for social isolation and aspects of social capital," Jordan Reese, Director of Media Relations at the Robert Wood Johnson Foundation, told Fatherly. But these associations do not include informal networks of social support, such as friends and family, "which are important to consider when understanding the amount of social support available within a county."
But the notion that big cities may also be lonely cities is not without merit, according to family therapist Heidi McBain. "It's a beautiful city," she told Fatherly, describing her former home in San Diego. "But a very expensive place to live, which makes it hard to get out and do things when you're having trouble paying for your basics like food and housing." Cities culturally tend to put more pressure on status and working harder to achieve it, which can make them a more transient and lonelier place. McBain eventually relocated to slower, and perhaps friendlier, Flower Mound, Texas.
Jean Fitzpatrick, a New York-based psychoanalyst and marriage counselor, agrees that crowded cities can be especially isolating. In recognition of this challenge, she suggests that urbanites put in extra effort to stay connected — if not for their happiness, then for their health. "Most have come here pursuing success, and they work amazingly long hours to achieve it. When they do get time off they often retreat to their apartment to relax," Fitzpatrick told Fatherly.
And thus the city becomes just a bit lonelier.
This article was originally published on