We Can Save the Next Generation $62.3 Billion By Making Them Run Around
Worried about the cost of healthcare? Here's the simplest long-term solution.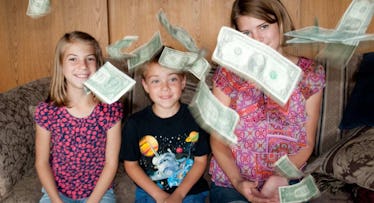 <a href="https://www.flickr.com/photos/goodncrazy/4832837733/" target="_blank"> flickr / Carissa Rogers </a>
Encouraging more 8- to 11-year-old kids to participate in physical activities at least three days a week could save them at least $21 billion in medical costs and lost wages over their lifetimes according to new research. The Johns Hopkins Bloomberg School of Public Health study in question suggests that massive savings is accrued when kids receive an even nominal amount of exercise, some 25 minutes at a time. And that's just a start.
For the study, published in Health Affairs, researchers from the Bloomberg School leveraged the supercomputing powers of Carnegie Mellon University and their Virtual Population for Obesity Prevention software. After running a simulation with the current percentage of 8- to 11-year-olds receiving 25 minutes of physical activity three times weekly — a depressingly paltry 32 percent — they found that at 8.1 million children would be obese or overweight by 2020. That same group would also see a loss of $2.8 trillion dollars in lost wages and medical costs in their lifetime.
However, upon tweaking the percentage of physically active kids up to 50 percent (a less than 20 percent shift), the computer models predicted $21.9 billion in savings and 340,000 fewer obese kids. Researchers also found that if every kid in the U.S. across the 8- to 11-year-old age range where to reach the 25 minute, three days a week level, they would collectively see $62 billion in savings as the population of obese and overweight kids decreased by 1.2 million.
The financial implications put a fine point (and a dollar sign) on research showing that children are becoming less active. One recent study showed that as many as one-third of kids worldwide get fewer than 30 minutes a day outside, which is less than is currently mandated for prisoners. More than simply realizing financial savings, exercise has also been correlated to better gut health and linked to better mental health outcomes. And, for kids diagnosed with ADHD, research has shown that school exercise programs can help increase focus and decrease distraction.
All of this would seem to suggest that parents should make efforts to ensure their kids get far more active outdoor time. Or perhaps consider moving to one of the best U.S. cities for outdoor play. Both of which seem far less dystopian than having a child being taught at a bike desk, no matter how much money it might save.
This article was originally published on