Jimmy Kimmel Asks Senator to Revise the 'Jimmy Kimmel Test'
The host is doubling down on his statements about Trumpcare while reaching out to Republicans.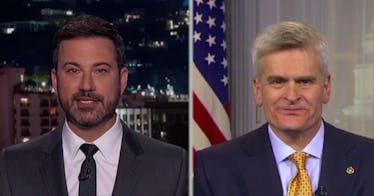 Last week, shortly after his son was was born with a heart defect, Jimmy Kimmel made in uncharacteristically emotional and political appeal to his viewers, asking them to reconsider their views on health care. Kimmel's son Billy, who was born with a blocked valve, is stable and safe, but he has a pre-existing condition and the American Health Care Act, if passed in its current form, could put a cap on his lifetime insurance coverage. Though the Kimmel family will be able to afford future treatments, the host was quick to point out that, for those less fortunate, Trumpcare could represent a death sentence signed by 217 congresspeople.
Kimmel quickly became the loudest voice pushing back against the AHCA after it passed in the House of Representatives, but he was far from alone. The Academy of Pediatrics condemned the act, citing the potential loss of coverage for chronically ill kids, many of whom might hit the cap before even coming home from the hospital for the first time.
"I would like to apologize for saying that children in America should have health care," Kimmel joked on Tuesday night as he shrugged off the backlash against his rant. "It was insensitive. It was offensive. And I hope you can find it in your heart to forgive me."
Now that the AHCA bill is moving from the House to the Senate, Kimmel is making more than jokes. On his show, he attempted to talk Republican Senator Bill Cassidy of Louisiana about what Cassidy, a doctor himself, is now calling the "Jimmy Kimmel Test." According to Cassidy, The Kimmel Test simply asks, "If a baby born with a congenital heart disease can get the care they need in their first year of life?"
This sidesteps an important question: What happens after that?
"Since I am Jimmy Kimmel I'd like to make a suggestion as to what the 'Jimmy Kimmel Test' should be," Kimmel told Cassidy. "I'll keep it simple: The 'Jimmy Kimmel Test' I think should be no family should be denied medical care, emergency or otherwise, because they can't afford it."
Cassidy listened respectfully and promised to work on the bill in the senate. Kimmel went on to suggest that access to healthcare might be made affordable by not giving huge tax cuts to millionaires like himself. The conversation was respectful, but left the political issues at the core of the healthcare controversy, which seems bound to come up again on Kimmel's show, largely unresolved.
This article was originally published on