Babies Sleep Longer In Their Own Rooms, But Do They Sleep Safer?
Infants sleep longer and more fitfully in their own rooms, according to a new study, but the results contrast sharply with recommendations from the AAP.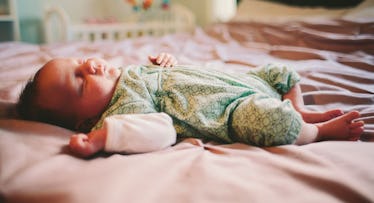 Exhausted dads, rejoice: infants sleep longer and more fitfully when they're sleeping in their own rooms, according to a new study. The study also suggests that parents who keep their kids nearby at bedtime are more likely to engage in unsafe sleeping practices, which can lead to Sudden Infant Death Syndrome. These results contrast sharply with recent recommendations from the American Academy of Pediatrics, which advocated keeping your kid with you in your bedroom (albeit in his or her own crib) for at least six months and, ideally, one year.
"Our findings show poorer sleep-related outcomes and more unsafe sleeping practices among [parents and children] who room-share beyond early infancy," coauthor on the study Ian M. Paul of Penn State College of Medicine told MedPage Today. "The AAP should reconsider and revise the recommendation, pending evidence to support room-sharing through the age of one year."
READ MORE: The Fatherly Guide to SIDS
Roughly 3,500 infants in the United States die every year due to unsafe sleep practices. The AAP has led the charge when it comes to decreasing that number, and in 2016 the organization released updated sleep guidelines, drawing on decades of SIDS research. The advisory board concluded that infants should sleep in the same room—but by no means in the same bed—as their parents for at least the first six months and, ideally, the entire first year of life.
But this new study calls the AAP's decision into question. Paul and colleagues analyzed data collected from 230 mother-infant pairs between 2012 and 2014. They found that mothers who slept in different rooms than their babies reported that their 4-month-olds and 9-month-olds slept an average of 46 and 40 minutes longer, respectively. Babies sleeping independently also had fewer night feedings and were less likely to be fed back to sleep.
"The suggestion that parents wait to move the infant out of their bedroom until the end of the first year, when separation anxiety is normative and increasing, is likely to result in frustrated parents and unhappy infants," Paul told MedPage Today. "It also conflicts with other data that room-sharing is associated with more sleep disruption for mothers."
The AAP begs to differ. As two members of the AAP Task Force on Sudden Infant Death write in a commentary on Paul and colleague's study, whether infants remained in their parents' rooms or not, all of the children in this particular data set slept for an average of seven hours. That's well within the normal range for infant sleep and, in fact, higher than the national average (as most parents can attest). They also note that fitful sleep is not necessarily a good thing. "The ability to arouse is critical physiologically, and a leading hypothesis is that failure to arouse makes an infant vulnerable to SIDS," they write. "Longer sleep durations in young infants, which Paul et al present as being preferable, may be problematic from a physiologic perspective."
So the AAP is sticking to its guns. Because, while new parents may nab a few extra Zzz's if they keep their kids in a separate room, our main concern should be reducing the number of infants who die in their sleep. And the best way to do that, the AAP maintains, is to keep your kids with you, in your room. "We recognize that optimal parental rest is desirable," they write. "However, the primary objective of safe sleep recommendations will always be to minimize risk of SIDS."
This article was originally published on