How Do Kids Learn to Know They Have to Poop
Children get the same signals adults get when it's time to go, they just need an interpreter.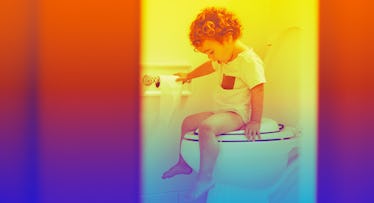 Your kids want to poop just as badly as you do. Young children feel an urge to poop as their rectums fill with stool and stretch, signaling to their brains that it's time to push. Kids — they're just like us.
Alas, children are not born housebroken. In order for them to make that all-important connection between urgency and the desire to seek out a potty and sit, your kids will need a little help from their growing brains and, of course, their diaper-weary parents. "This is the 'urgency' sensation that both children and adults feel," Sarina Pasricha, a gastroenterologist, told Fatherly. "Young children are learning how to recognize this, unlike adults who have already been conditioned."
Healthy children become aware enough of their bodily functions to act upon them somewhere between the ages of 12 and 18 months, according to the American Academy of Pediatrics. The tricky part is conditioning their brains to drop their pants at just the right moment. Because once the urge to poop kicks in, it's the cerebellum's job to determine whether it's a good time to poop — and the cerebellum can be a fickle brain region in small children. As Pasricha puts it: "more challenging for young children is realizing when is, and when is not, a socially acceptable time to poop."
When children start to hide before they poop, that's often a key indicator of potty training readiness because it shows that they have at least some cerebellar control over where and when they poop. Other examples of body awareness include removal of dirty diapers to signal they can identify the physical discomfort of them. Since they're already streaking throughout the house, this is a great time for parents to put kids on the toilet and hang out with them until they poop, or try any number of potty-training methods. None are scientifically superior, and all seem to work eventually.
Wendie Howland, a registered nurse and mother, suggests parents take the whole potty training game one step further, however, and discuss what urgency feels like. "One day my daughter asked me, in 2-year-old language, 'how do I know I need to go potty?'," Howland told Fatherly. (An existential question, by any measure). "I said, 'You know when you have that little tickle in your bottom?'" It worked. Howland's daughter never had another accident after that.
"They can certainly feel it," Howland confirms. "But, as with so many other things, they need to know what it is before they know what to do about it."
This article was originally published on