Here's Why So Many Kids Are Hospitalized with COVID-19 in Florida
The answer is scary, but no more scary than usual.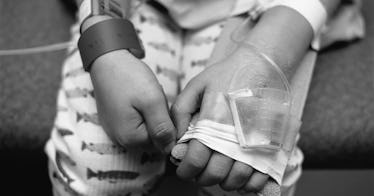 COVID-19 cases are ballooning across the U.S., and few states are doing worse than Florida. In the Sunshine State, the total number of children hospitalized with COVID-19 jumped from 246 to 303 from July 16 to July 24. That's a 23 percent increase in just eight days. This increase comes with the looming threat of state-mandated school reopening, with some districts resuming in-person classes in as soon as two weeks. Of course, there can't be hospitalizations without cases, and childhood cases have seen a sharp rise too. In the same eight days, the number of children 17 and under who tested positive for COVID-19 surged from a total of 23,170 to 31,150 — a 34 percent rise, according to the Florida Department of Health. During this time, the rate of children tested who returned positive results went up too, from 13.4 percent to 14.4 percent.
Why are children's COVID-19 cases — and especially hospitalizations — so high? Is it a question of numbers being accurately counted, or something else?
"It's difficult to know for sure," says Sonja Rasmussen, a professor of pediatrics and epidemiology at the University of Florida. "But I think as Florida is surging, we are going to see more cases in everybody." Kids are less likely to get severely sick with the disease, but that doesn't mean they're immune. And because COVID-19 is so prevalent in Florida right now, with about 9,000 cases or more every day for the past three weeks and three back-to-back days of record deaths, it only makes sense that the virus is taking a toll on kids too.
The coronavirus spread is exacerbated by continued reopening plans — and with parents letting their children run around with many other mask-less children. "As they get out in the world — they're going and playing with friends, they're seeing other families, they're being in situations where they have the opportunity to get exposed to the virus that causes COVID-19 — the numbers are going to increase," Rasmussen says.
Though kids' cases and hospitalizations have surged, deaths remain low. Only one child passed away due to COVID-19 during the eight-day surge, leading to a total of five childhood deaths in the state. Fifteen children in Florida have been diagnosed with the multisystem inflammatory syndrome, according to WEAR.
The surge in pediatric cases does not bode well for school reopening. "It's going to be a challenge in a school situation to keep that six-foot distance, to encourage kids to keep their masks on and not touch other kids' stuff and not touch other kids," Rasmussen says. "The chance of an outbreak in a school is higher if the rate is higher and if there's a good likelihood in every school — or even every classroom — that there's a child that's infected."
The notion that deaths remain low, and unlikely among children with COVID-19 is cold comfort. It's something, but as cases continue to climb, the only thing anyone knows for sure is that more social contact will lead to more cases. Even among kids.
This article was originally published on