The 15 Healthiest Fast Food Menu Items for Kids
From KFC's chicken drumstick to Subway's oven-roasted chicken sandwich, this is fast food you don't have to worry about giving your kids.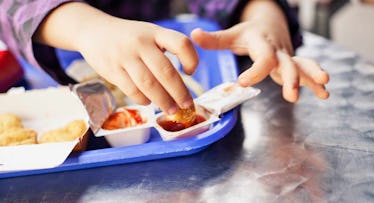 Even the most health-conscious parents will find themselves at a fast food drive-thru at some point — whether off a busy highway or on a busy week. But you don't have to entirely shun the convenience of fast food for the sake of your kids' health. Many restaurant chains now offer healthier items, so even a once-a-week fast food pit-stop is fine if children eat healthfully the rest of the time. "Years ago you could only get something fried at KFC, for example," says Tammy Lakatos Shames, a registered dietitian in New York City and co-author of The Nutrition Twins' Veggie Cure. "But there are good options there now, which is encouraging for parents."
The trick is to set some rules of engagement. Like anywhere else, fruits, vegetables, and whole grains are your friends. Saturated fat, sodium, and added sugar need to be limited. The less processed, the better. Sound familiar?
When it comes specifically to fast food, focus on the salt. Fast food is a big reason why sodium is a "nutrient of concern" for Americans older than two, says Kate Donovan, a pediatric clinical dietitian at Boston Medical Center says. Kids between six- and 18-years-old shouldn't consume more than 2,300 milligrams of sodium a day, but around 90 percent of kids in that age group exceed that amount, according to the Centers for Disease Control. High-sodium diets can raise kids' blood pressure, which puts them at higher risk for heart disease later.
This is why kids should generally steer clear of breakfast items. Sausage, bacon, and ham have loads of fat and are sky-high in sodium; biscuits are also high in artery-clogging saturated fat, she says.
For everything else, read the nutritional information carefully — even if you think you know which item is healthier, it might surprise you. A processed hamburger, for example, isn't what anyone would call "healthy," but, counterintuitively, it can be a more nutritious option than the chicken. Burgers made with ground chicken will include its skin and other parts that are by no means healthy, says Lakatos Shames, and when you add breading or mayo, it can be in fact worse. Furthermore, although high in saturated fat and sodium, the beef burger does provide a good amount of protein and iron, which kids need to build healthy blood that carries oxygen to the body's cells.
Another surprising fast food finding: The regular hamburger at Sonic is a healthier option than Sonic's veggie burger, which contains half a days' worth of sodium at 1,300 milligrams. The vegetarian and meat versions both provide 15 grams of protein but the regular burger contains half the sodium of the meatless version and only three additional grams of fat.
Finally, stop counting calories. Higher-calorie items might pack important nutrients into the meal, and that matters more. A turkey breast sub, for example, might have a few more calories than a plain hamburger, but its nutritional profile is higher if topped with tomatoes and lettuce and sitting in a whole-grain bun. A small soda has fewer calories than a carton of low-fat milk, to give another example, but the milk contains protein, vitamin D, and calcium. The average 3-year-old needs less than half the daily calories of the average 25-year-old, yet 3-year-olds need nearly as much calcium as adults — around 700 milligrams to adults' 1,000 milligrams of calcium a day — because kids are still growing.
Despite these guidelines, it's not always easy to discern the healthiest choices, which is why we did some of the legwork for you. Below are 15 of the healthiest fast food options for kids.
Turkey Breast Mini for Kids (Subway)
For healthy kid meals on the go, you'll have the most options at Subway, and the turkey mini sub is a particularly solid choice. Opt for apple slices instead of chips and low-fat milk instead of juice or soda to round out the meal.
Fast Facts: This sandwich comes on 9-grain wheat bread with tomatoes, lettuce, onions, green peppers, and cucumbers. "This is a really good option for kids – it provides a substantial amount of protein, and the sodium isn't through the roof," says Lakatos Shames.
6-inch Oven-Roasted Chicken (Subway)
Served on the same 9-grain bread and with the same veggie toppings as the turkey sub, this 6-incher has a higher sodium count than the turkey sub, but a whopping 23 grams of protein.
Fast Facts: Like red meat, chicken is also a source of zinc, which kids need to help them grow as well as boost immunity and aid in wound healing.
Kids Veggie Delite Mini Sub (Subway)
Also earning high marks was the veggie delite. The sandwich is "a great way to get in more veggies," says Lakatos Shames, even if it's more of a snack than a meal. Add a side of apple slices and low-fat milk to this meal because it's not substantial enough for growing kids on its own.
Fast Facts: With 150 calories, 2 grams of fat, 6 grams of protein and only 190 milligrams sodium, this one of the safest choices on the list.
Rotisserie Chicken Quarter White, Skinless (Boston Market)
Boston Market does offer kids' meal options, but it is better to veer off script and skip the dark meat chicken, meatloaf, and macaroni and cheese from the menu. This order is the way to go.
Fast Facts: The quarter-white skinless rotisserie chicken has a spectacular 42 grams of protein and a reasonable amount of fat. It is high in sodium — 690 milligrams — but with a side of green beans or steamed vegetables, you can get a complete meal high in antioxidants, fiber, and nutrients.
Chicken Noodle Soup (Boston Market)
If kids are starving and you're in need of a quick snack or side to a larger meal, go for Boston Market's chicken noodle soup.
Fast Facts: "It's high in sodium [more than 1000 mg] but satisfying with a little protein and low in calories, so not bad," says Lakatos Shames.
Grilled Nuggets Kids Meal (4 nuggets) (Chick-fil-A)
This is your best-bet alternative to the breaded and fried nuggets your kids usually choose. Go with applesauce or a fruit cup as a side instead of the fries.
Fast Facts: There are only 70 calories in the 4-piece grilled chicken nuggets kids' meal, as well as 2 grams of fat, 220 milligrams of sodium and 13 grams of protein
Hearty Breast of Chicken Soup (Chick-fil-A)
The hearty chicken soup is low in fat and calories and a great choice. Looking for more protein? Check out chicken tortilla soup which is higher in calories and fat but also packs an impressive 22 grams of protein per serving.
Fast Facts: The chicken soup wins on paper with 140 calories, 4 grams of fat and 7 grams of protein.
Shredded Chicken Mini Quesadilla (Taco Bell)
Taco Bell doesn't have a separate kids' menu but they do offer a few kid-friendly options on the regular menu, such as the chicken mini quesadilla. Although the mini didn't elicit rave reviews from Lakatos Shames, she says it's a decent option. "The sodium is a little high for the calories, but it does also have protein and calcium from the cheese, which is good."
Fast Facts: The 180 calories, 12 grams of protein, 8 grams of fat, and 540 milligrams sodium found in the mini quesadilla are solid — if that's all your kid eats.
Chicken Soft Taco (Taco Bell)
With similar calorie and protein counts as the mini quesadilla, the chicken soft taco has less fat and sodium — 6 grams and 460 milligrams, respectively – and is a decent option for a snack or mini-meal in a pinch, Lakatos Shames says.
Breakfast Soft Taco, Egg and Cheese (Taco Bell)
Definitely leave the bacon out of this breakfast option. Doing so makes it a reasonable 170 calories. It also has 9 grams of fat, 330 milligrams of sodium, and 7 grams of protein. "This is an okay option," Lakatos Shames says. "But it's a bit low in calories for an entire meal for kids."
Fast Facts: Whole eggs are a great source of choline, which helps kids' cell and nerve function.
Chicken Nuggets King Jr. Menu (Burger King)
Four BK Jr. nuggets only run 190 calories and a not-terrible 11 grams of fat, but be aware that the honey mustard dipping sauce adds 90 calories and 6 grams of fat per ounce; an ounce of the buffalo dipping sauce is 80 calories and 8 grams of fat. Go with the applesauce side and low-fat milk.
Fast Facts: The Burger King nuggets provide 8 grams of protein, and have a relatively low sodium content at 360 milligrams.
Oatmeal King Jr. Menu (Burger King)
Fairly low in calories (170) and fat (3 grams), this maple-flavored Quaker oatmeal comes with a side of applesauce and milk, making it a decent and quick breakfast option.
Fast Facts: Topping the oatmeal with the optional dried fruit garnish adds 90 calories, which you should skip given the added sugars.
Chicken McNuggets (McDonald's)
Kids don't have to skip the classic – a 4-piece chicken nugget kids' meal has 180 calories, 10 grams of protein and 11 grams of fat. A fruit and yogurt parfait on the side provides calcium, antioxidants and vitamins.
Fast Facts: The apple dippers, slices with a caramel dipping sauce, are also a decent side order option, despite the sauce's sugar content. "Compared to French fries, which have no nutritional value whatsoever," says Lakatos Shames, "the sugar in the caramel sauce isn't that big a deal when paired with fiber-rich whole fruit."
Grilled Drumstick (KFC)
The grilled drumstick is the best bet for sodium-phobic parents at KFC. A similar item, the grilled chicken breast, is a little heartier with 210 calories, 7 grams of fat and 38 grams of protein, but the sodium is way higher at 710 milligrams compared to the drumstick's 220 milligrams. Choose a side of green beans or corn, which are just under 100 calories each, applesauce, and 1 percent milk (chocolate or regular) for an overall decent meal.
Fast Facts: Each drumstick is just 90 calories with 4 grams of fat and 11 grams of protein.
Kids 2 PC Tenders (Wendy's)
This two-tender meal is 200 calories and has 15 grams of protein and 10 grams of fat. Add a side of apple slice and low-fat milk and you're good to go.
The Fast Food Cheat Sheet For Parents
Find yourself at a fast food joint? Follow these rules.
Look at the Sodium
This is enemy number one at fast food chains. If nothing else, compare the salt content of items first.
Skip Most Breakfast Options
The most processed and salty foods will be found on the breakfast menu, with few healthy options available.
Stop Counting Calories
Or at least don't obsess over them. When it comes to fast food, the quality is more important than the calorie count.
The More Natural the Food, the Better
This means pick grilled chicken over nuggets; whole fruits and vegetables over, well, everything.
Breaded And Fried? Skip It
Just don't go there.
This article was originally published on