Great Meals To Stockpile In The Freezer Before Your Kid Is Born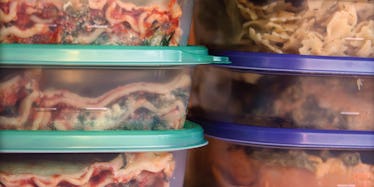 At some point after bringing your new kid home, your deep anxiety about keeping the sucker alive will part like storm clouds, allowing hunger to shine through. There'll be a couple ways to solve this situation. You can hope that a friend will bring by a casserole. You can cook something yourself (ugghhhhh). Or you can order out and hope you can still pay the hospital bill.
However, if you're a badass (which is obvious because you're reading this) you'll have leveraged the power of freezer cooking. "Don't fret, darling," you will tell your exhausted partner. "Let me just pop some chicken enchiladas into the oven." She would thank you, but she'll be too busy crying real tears of joy because you're so goddamn incredible. Oh, and salivating in anticipation of enchiladas. Go, you!
Don't know how to leverage freezer cooking? Check out these tips and some recipes to get you started.
The Basics
Freezer cooking is just a fancy way of saying you made extra of some freezable dish … and froze it. These frozen dishes can then be thawed and enjoyed at your convenience. Or, actually, your hungry partner's convenience.
Containment System
You'll need some stuff before you start slinging your hash, buck-o. Namely, you'll need containers to put your food in. While, yes, the term bag-o-soup is hilarious, not everything works well in reclosable freezer bags.
Consider those disposable aluminum trays that you may have used during Thanksgiving. You can buy 'em in stacks. Freeze the food in them. Cook the food in them. And you can even reuse them if you're being green (which isn't easy according to Kermit).
Also think about plastic containers that may have once carried other foods. Like yogurts or cottage cheese. Just maybe don't nuke them when reheating to keep chemical issues at bay.
Finally, sure, no diggity … freezer bag it up.
Freezable Foods
When you're thinking about what you can make, you can go one of two ways. You can cook full-on meals that are meant to freeze (soups, casseroles, pastas), or you can cook a main ingredients that works as the base for multiple dishes.
Think grilled chicken that you can pair with a salad or slip between buns for a sando. Think browned beef or, better yet, taco meat. Think pasta sauce. Think sloppy joes, because if the rest of the family is going to be sloppy during baby-leave, the food might as well be too.
A Note On Labeling
Make sure you invest in a nice sharpie. You might want to note basic reheating instructions (if you know them). Also, things tend to suddenly look the same after a few weeks (or months) in the freezer. But then again, you might enjoy the fact that dinner every night is a tuna surprise. Surprise! It's not tuna!
5 Recipes To Get You Started
These delights should keep you going for awhile. You've got a couple months to make them and start stockpiling your goods. Most can withstand being frozen for a couple months at least. Plan accordingly.
Grilled Pepper, Onion, and Sausage Calzones
Here's the trick for calzones: Just build 'em up until the point there ready to bake and don't bake them. You can put them right in the oven from the freezer. No thawing time needed. Unless you're making them for Leslie Knope, in which case it might take awhile for her to warm up to you. Learn more here …
Roasted Red Kuri Pumpkin & Coconut Soup
Soups are so freaking easy. Seriously. Don't let anyone tell you otherwise. The best part is that they can be double batched in a snap. You get dinner and freezer meals. This soup is great if you have a partner who's a vegetarian, but you can always add bacon after the fact because of course you will. Learn more here …
Mediterranean Tuna-Noodle Casserole
Casseroles are a staple of freezer cooking. There is a very good chance that friends might have brought a couple frozen casserole over already. It must be nice to have friends like that. How does it feel? Anywho, this recipe is from the grande dame Martha Stewart herself. Interestingly you can also warm it up in a prison laundry dryer. Learn more here ...
Chicken Enchiladas
These enchiladas can be frozen for up to a month before you hit 'em again. But you will likely have to fight your enchilada-eating instincts for that month. Enchiladas have that way about them. They just so badly want to get into your belly. You fat bastard. Learn more …
Beef And Cheddar Potpie
While you can make these as one big dish, you'll want to prepare and freeze individually. That's super helpful when not everyone wants to eat a potpie. Because that can happen. Especially with thos enchiladas calling out to you from the freezer. "Brooooooooo! Broooooooo! Put the baby down and eat me!" Learn more here …
This article was originally published on