Campout Fighting Childhood Cancer Unites Families Nationwide
Investing in childhood cancer research is essential for our kids, but creating opportunities for them to simply enjoy childhood is a must as well. That's what The Ultimate Campout is all about.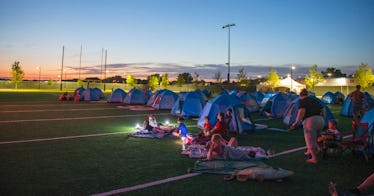 This story was produced in partnership with Northwestern Mutual Foundation, committed to accelerating the search for a cure to childhood cancer while supporting families undergoing treatment and survivors suffering from late effects.
When you hear the word cancer you often think of an illness that impacts middle-aged or elderly, yet, according to the National Cancer Institute, this year, an estimated 11,060 kids under the age of 15 will hear words that no family wants to or should have to hear – "You have cancer." While childhood cancers range in type and severity, any time a family receives this news, it upends their lives and threatens to rob kids of their health and their childhood in so many ways.
A cancer diagnosis for a child is a completely new reality for them to adjust to, and it's one in which they are forced to grow up quicker than expected. Their lives and their family's life will be changed forever. Simple childhood pleasures such as riding bikes, making friendship bracelets, and having sleepovers with friends are replaced with doctor visits, tests, treatments, checkups, routines and rules — effectively stripping away their childhoods.
For children and families battling cancer diagnoses, these basic childhood moments of play can be put on hold as they undergo prolonged treatment. Children with cancer need to engage in fun activities, stay connected with friends, and continue enjoying time with their family. It's essential to their well-being as well as those of their families and siblings. Sometimes having just a moment — or day — of normalcy can make them forget about their new reality and the struggles that come with it, and sometimes that's all they need and want.
For these reasons, the Northwestern Mutual Foundation's Childhood Cancer Program works to provide children and families affected by cancer support opportunities through various camps, events and impactful programs. Since 2012, the Foundation's Childhood Cancer Program has contributed more than $20 million, which includes funding over 240,000 hours of pediatric cancer research, but it has also focused beyond the lab to directly support kids and families.
"Through the work Northwestern Mutual has done for more than seven years, we've learned that this terrible disease takes a toll not only on the child who has cancer, but on the entire family," said Eric Christophersen, President of the Northwestern Mutual Foundation. "Research shows that having the opportunity to rediscover the joys of childhood through experiences pays positive dividends." Northwestern Mutual, through its Foundation's Childhood Cancer Program, is committed to providing patient and family support and helping those affected by the disease find hope and community.
In support of this effort, the company created The Ultimate Campout Fighting Childhood Cancer event. Now in its second year, The Ultimate Campout is a unique overnight campout retreat where children and families gathered to share experiences and make unforgettable memories.
Northwestern Mutual, in partnership with the Green Bay Packers, hosted the second annual event, at Titletown, neighboring Lambeau Field in Green Bay, Wisconsin. Childhood cancer patients, survivors, and families from all over the country gathered for a day full of camp-themed activities including arts and crafts, a campfire sing-along and s'more making, as well as outdoor games. The experience was made extra special as everyone received a VIP behind-the-scenes tour of Lambeau Field, and closed out the evening with an outdoor movie on the big screen under the stars in their tents right outside the Green Bay Packers' home turf.
"Families enjoyed all the fun that you would expect at a traditional campout – roasting marshmallows for s'mores, gathering around the campsite for a sing-a-long Christophersen says. "We made this experience extra special for them with a surprise visit from NFL and Packers legend Donald Driver."
Driver spent time with the families and children, and even tossed around the football, showing them some of his signature moves. All of the campers were invited to attend through the Northwestern Mutual Foundation's partnerships with various hospitals and camps.
"Children of various ages and stages attended: those with cancer, those in remission, and those who've beat the disease," Christophersen said. "This event allowed them to forget about their health issues and just be a kid, alongside others who understand what they are going through. Everybody is just there to have a good time."