Behind the Design of EndeavorRx®, the First FDA-Approved Video Game Treatment
How a cleverly designed video game is helping kids with ADHD.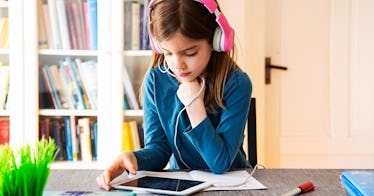 This story was produced in partnership with Akili Interactive, maker of EndeavorRx®.
It's not easy to raise a kid with ADHD. Diagnosis can be tricky, and the pharmaceuticals that are available usually work for eight out of ten kids. That's pretty good, but it still leaves a sizable number of kids with ADHD in need of more effective treatments. And there is still room for improvement in symptoms for many who do respond well to medication.
That's why EndeavorRx, the very first FDA-approved digital treatment delivered through a video game experience, is such an intriguing idea. It's useful for those kids who don't respond well to the available medication and those who do but are looking for even better results.
Using an iOS device, kids navigate the character of their choice through a winding course, collecting targets and avoiding obstacles along the way. To the untrained eye, it looks like a fairly simple video game experience.
But there's more to EndeavorRx treatment than meets the eye. The medical and gaming experts who designed it did so not only to entertain but to also add a new, valuable component to therapeutic programs for ADHD alongside clinician-directed therapy, medication, and educational programs. They came up with a treatment that has been proven to help improve attention function in kids aged 8 to 12 with demonstrated attention issues caused by primary inattentive or combined-type ADHD.
Let's look at the results. In a randomized, controlled clinical trial, EndeavorRx was shown to improve objective attention in children with ADHD. Up to a third of kids had a "clinically meaningful change" in ADHD symptoms after one month of treatment, a number that rose to 45% after a second month. Additionally, 48% of parents indicated that EndeavorRx improved their child's ADHD-related day-to-day impairment, and 56% said it helped improve their attention. Parents of children both on and off ADHD medication reported improvement to ADHD impairments at a statistically significant level after four weeks of treatment.
Here's how it works. When playing the game, a combination of sensory stimuli and simultaneous motor challenges (like steering clear of obstacles and tapping the screen when the correct target appears) are designed to activate areas of the brain that play a key role in attention function. To be successful in the game, kids with ADHD have to focus and be flexible enough to manage multiple tasks while filtering out distractions at the same time—skills that are difficult for them to do naturally but possible to improve upon.
For kids, EndeavorRx can be challenging, especially as they're learning how to play. Thankfully, it's built to encourage all kids to keep playing by providing reward mechanisms seen in best-in-class games and adapting to the specific needs of the player.
Each child's ADHD is unique, and the game is programmed to adapt to meet each patient's needs in real time and in the days in between treatments. EndeavorRx can also be modified over time in response to data and feedback from patients.
Akili has already deployed a slew of updates, including characters that are more upbeat and cheekier, and therefore more relatable to kids at the older end of the 8-12 recommended age range. It's also added new mechanics that bring a layer of complexity to gameplay and allow kids a workaround when they get to a difficult spot that might've been discouraging before. There are also new short- and long-term goals that provide fodder for strategic use of new game elements and encourage exploration and discovery. Kids also gained choices in how they level up the game ecosystem and autonomy in how they approach gameplay challenges, both moment-to-moment and across sessions.
It all adds up to a game that's fun for kids to play and that's effective in addressing the symptoms of ADHD.
For more information about EndeavorRx visit EndeavorRx.com.
Indication & Safety Information:
The EndeavorRx app is a digital treatment indicated to improve attention function as measured by computer-based testing in children ages 8-12 years old with primarily inattentive or combined-type ADHD. Patients who engage with EndeavorRx may not display benefits in typical behavioral symptoms, such as hyperactivity. EndeavorRx should be considered as part of a therapeutic program and is not a substitute for ADHD medication. The most common side effect observed in children in EndeavorRx's clinical trial was a feeling of frustration, as the game can be quite challenging at times. No serious adverse events were observed with its use.
Akili and EndeavorRx, as well as the logos for each, are trademarks or registered trademarks of Akili Interactive Labs, Inc. Other trademarks are trademarks or registered trademarks of their respective owners.
This article was originally published on