Emotional Jimmy Kimmel Speaks out About His Son and Healthcare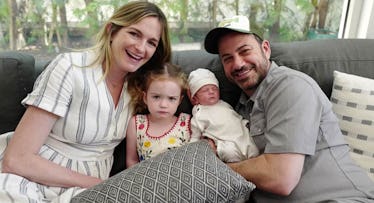 YouTube
Jimmy Kimmel recently welcomed his second child and yet last night he started his monologue in tears. His son, William John Kimmel, aka Billy, was born on April 21 with a serious heart disease where the pulmonary valve was blocked and there was a hole in his heart. Three days after his birth, he underwent open-heart surgery at Children's Hospital Los Angeles. Six days later he was home and continues to thrive now that Dad is back to work.
The late night host used the time reserved for topical one-liners and the occasional parent-on-kid prank, to thank all the health care professionals who helped save his son, his work family for giving him the time off, and his wife Molly for having sex with him in the first place. He also thanked Congress for a very, very different reason.
President Donald Trump proposed a $6 billion budget cut to the National Institutes of Health. The night before Kimmel's emotional monologue, Congress voted against that and recommended a $2 billion increase. The timing was not lost on the rarely political funnyman, who noted that more than 40 percent of people affected by cuts would have been kids. It literally hit close to home.
Prior to Obamacare, infants like Billy born with congenital heart disease could be turned down for health insurance because it qualified as a pre-existing condition. That's right, a pre-existing condition before they're even born.
"If your baby is going to die and it doesn't have to, it shouldn't matter how much money you make," he said.
Along with asking viewers to donate to Children's Hospital, Kimmel's plea is for people to hold their electoral officials accountable for standing up to this when children's health is involved, no matter what political party they belong to. Kimmel, who was brought up to believe that this is the greatest country in the world, knows that under different circumstances Billy wouldn't have made it. "I saw a lot of families there, and no parent should ever have to decide if they can afford to save their child's life. It just shouldn't happen. Not here."
This article was originally published on