Bodybuilders May Have (Accidentally) Discovered the Secret to Better Sleep
No gym membership or weird shakey water bottle required.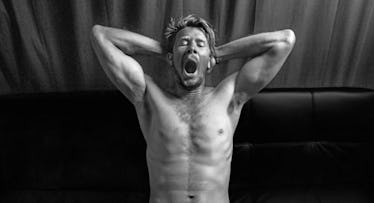 <a href="https://www.flickr.com/photos/chillmimi/13864540205" target="_blank"> flickr / Petra Bensted </a>
Creatine supplements may seem exclusively for bulky bros at the gym, but the science behind it suggests it might aid sleep deprived parents who aren't looking to get swole at all. Once creatine enters the body it turns into creatine phosphate, which helps create a substance called adenosine triphosphate (ATP) — a small molecule used to transport energy between cells. This helps with metabolism, as well as building muscles, but there's evidence that it can help after a rough night with a toddler. No gym membership or weird shakey water bottle required.
One study, published in the journal Psychopharmacology back in 2006, found that creatine could reduce the mental and physical strain of 24 hours of sleep deprivation when taken regularly. The double-blind experiment tested two cohorts on random movement generation, verbal and spatial recall, choice reaction time, static balance, and mood state, normally as well as after six, 12, and 24 hours of sleep deprivation with intermittent exercise — a controlled hell week of sorts.
After the 24-hour period, the creatine group showed significantly less change in random movement generation, choice reaction time, balance and mood state than the control group. However, the sample size was very small — only 19 people, 10 who took creatine and 9 who did not. Another study, published in the journal Physiology & Behavior followed the same experimental model but extended the sleep deprivation to 36 hours. Results similarly showed the creatine helped with executive function. The Mayo Clinic also gives creatine a C grade for athletic performance enhancement, cognitive function, and memory. It's not great but it is passing, which is as much as anyone can hope for after pulling an all-nighter.
"There has been some intriguing evidence to indicate that creatine may help mitigate the effects of sleeplessness," Dr. Steven Ehrlich, a naturopathic doctor and acupuncturist who's reviewed creatine research for Penn State, confirmed to Fatherly via email. The basic chemistry makes sense — if a tired person is low on phosphates, which reduces cognitive function, a buff shake could bring them back. At least, it's worth a shot. Check out the following recipes. And if a bodybuilder asks "how much do you lift?" just say, "A 3-year-old."
Strawberry Savior Shake
4 scoops vanilla whey protein
1 cup water
1 cup strawberry Greek yogurt
3 frozen strawberries
1 scoop creatine
1 tsp flaxseed oil
Peanut Butter Cup Shake
1 cup skim milk
1 pasteurized egg whites
1 tbsp smooth peanut butter
2 1/2 scoops chocolate protein
1 scoop creatine
1/8 cup of sugar-free hazelnut creamer
Creatine Catalyst Shake
2 scoops vanilla whey protein
2 Granny Smith apples
1 scoop creatine powder
1 handful ice
For more recipes, go here.
This article was originally published on