CDC Says People Without Symptoms Shouldn't Be Tested For COVID
This could be bad for schools.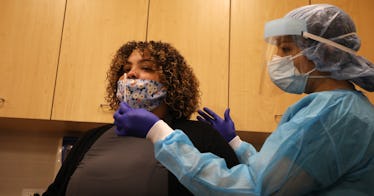 GETTY
The Centers for Disease Control and Prevention changed its guidelines this week to advise that people without COVID-19 symptoms be excluded from coronavirus testing. As you can imagine, outside experts are pissed. About 40 percent of all people with COVID-19 are asymptomatic, and people who do develop symptoms may be most infectious in the days before their symptoms appear. The guidelines change is especially bad advice for the back-to-school season because kids are more likely to be asymptomatic, and routine testing is a major outbreak prevention strategy for K-12 schools and colleges.
One reason for the change is that getting a negative test result doesn't necessarily mean you're in the clear. Not only are some results false, but it takes time after getting infected for the virus to multiply in your body enough for a test to pick it up. Besides, if you've been exposed but test negative and have no symptoms, the CDC recommends you quarantine for two weeks anyway. "A negative test on day 2 doesn't mean you're negative. So what is the value of that?" Brett Giroir, the coronavirus testing czar for the Department of Health and Human Services, told the New York Times.
But the new recommendation will obscure counts of COVID-19 cases across the country — counts that are needed to drive policy decisions. And if schools, workplaces, and organizations such as the NBA follow the new guidelines, they will stop routine testing that aims to keep outbreaks at bay. Medical professionals won't pick up on as many asymptomatic cases, and they won't be able to trace the contacts of those overlooked asymptomatic people.
"I hate to say this, but @CDCgov's new guidelines are wrong," tweeted Leana Wen, former health commissioner of Baltimore and a public health professor at George Washington University. "If you are in close contact with someone who is known to have #covid19, you are at risk & you should get tested. Follow public health guidance about quarantining & retesting if needed."
Previously, the CDC recommended COVID-19 testing for anyone who was in close contact with an infected person for 15 minutes or more, regardless of symptoms. One of the reasons the change is a bad idea is that people without symptoms are the source of transmission for about 60 percent of cases, UC Davis Health reports using CDC data. Most of that link back to pre-symptomatic people who didn't have symptoms at the time of transmission but later developed them.
Experts fear that political pressure from the White House had a hand in the decision. "The only plausible rationale," Gov. Andrew Cuomo of New York told reporters in a conference call, "is that they want fewer people taking tests because as the president has said if we don't take tests, you won't know the number of people who are COVID-positive." But less testing is not how you address a pandemic. "We can't control #covid19 if we can't identify asymptomatic cases," Wen tweeted. "We need MORE testing, not less."
Two federal health officials told the New York Times that the guidelines were handed down to the CDC by their superiors at the White House and Department of Health and Human Services. But Girour disputed this. He said that while the revision followed debate from the White House's coronavirus task force, it was a "CDC action." He also said it was written and signed off on by health officials, including infectious disease specialist Anthony Fauci before politicians had a chance to look at it. However, Fauci said he signed off on the initial revision of the guidelines, but he was under general anesthesia for surgery on his vocal cords when the final debate took place.
"It's heartbreaking to see CDC politicized in this way," tweeted Ashish Jha, director of the Harvard Global Health Institute. "Obviously not a science-driven decision. And will lead to more Americans getting infected and dying."
The guidelines do say that testing people without symptoms who were exposed to COVID-19 may be warranted if the person is "vulnerable" or if their "health care provider or state or local public health officials recommend" it. But to many scientists, that's not enough. Experts worry the move will undermine public trust in the CDC, and those insurance companies may use it to deny testing coverage to people without symptoms.
Several states have already rejected the new CDC guidance. "@CDCgov's new guidance would cause WA to miss thousands of new cases and allow the virus to spread in our communities," tweeted Gov. Jay Inslee of Washington. "If you've been exposed to a confirmed case, GET TESTED."
Here's our full list of activities, ranked by COVID-19 risk.