What Parents Need to Know About the AAP's New Car Seat Guidelines
Nearly half of parents of children under 2 still don't use rear-facing car seats.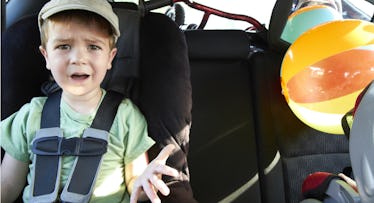 The American Academy of Pediatrics (AAP) recently updated their car seat guidelines and car seat recommendations, and unless you've gone full-green and are transporting your kid by bike only, parents may want to take note. While many recommendations reinforce past ones — keep infants and toddlers in rear-facing car seats until they're at least 2 years old or exceed the height and weight limits allowed by the manufacturer, for instance — research suggests that such best practices bear repeating.
The Latest Car Seat Guidelines
The update follows a 2017 study, published in the Journal of Pediatrics, that surveyed 491 parents of children 17 to 19 months old on car seat safety. Only 62 percent of participants reported using a rear-facing car seat, and caregivers who previously used a car seat with a child were less likely to be using a rear-facing car seat at 18 months old. In contrast, caregivers who had discussed car seats with their pediatricians and were aware of the AAP's recommendations used rear-facing car seats 95 percent of the time.
An additional 2017 study, published in the Journal of Pediatrics, looked at 18,000 children under 15 years old who were involved in car crashes where someone died. Results revealed that 20 percent of them were improperly restrained, and 43 percent of the kids died themselves, further highlighting a crucial need for increased safety education and awareness among parents and caregivers.
What does proper car seat installation look like? It involves a host of step-by-step instructions on everything from attaching the car seat to the car properly to strapping in your kid in a just-tight-enough fashion. Be sure to learn from a professional — taking an online class, having a firefighter inspect the seat, and having a nurse check your infant is in there properly. In other words, there's a bit of homework to be done.
Safest Car Seats
To avoid any uncertainties among parents, the AAP released a list of approved car seats, complete with the manufacturer, height, and weight limits, and price, along with a color-coded chart outlining guidelines per age group. It's important to note that size overrides age and that having an AAP approved car seat doesn't matter if your kid doesn't fit in it. Expectant parents should also do their best to prepare, discuss with their medical providers, and "give yourself enough time to learn how to properly install the seat in your car before your baby is born to ensure a safe ride home from the hospital," HealthyChildren.org, a site run by AAP pediatricians, warns. And when in doubt, parents can call the manufacturer's consumer helpline to be certain the kids are safely buckled in. That's worth waiting on hold for.