If You're Not Cancelling Christmas, Do This to Stay Safe
Cancelling holidays plans is the best way to avoid COVID. But if you're still celebrating, there are ways to mitigate risk.
by Payal Dhar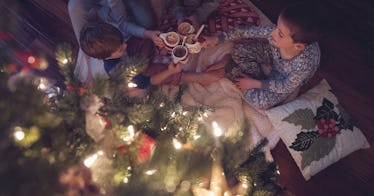 Omicron currently accounts for almost three-quarters of all new COVID cases in the U.S., an approximately six-fold increase in its share of new infections in just a week. Experts are now confident that Omicron will be the cause of a new COVID surge. The new variant is extremely transmissible — possibly the fastest-spreading modern-day virus ever. It also seems partially capable of evading vaccine- and infection-induced immunity.
Experts predict Omicron cases are likely to spike between Christmas and New Year, peaking around mid-January. And although early reports suggest Omicron causes milder symptoms, Anthony Santella, professor of health administration and policy and University COVID-19 Coordinator at the University of New Haven in Connecticut, advises not to be swayed by that. "We don't yet know the long-term impacts of COVID…so I don't want it, even if it's mild," he says.
With all that in mind, the most surefire way to avoid Omicron this holiday season is by locking your doors and having a cozy Christmas with your immediate family only. But with the pressures of in-laws, expectations of the kids, and nearly two years' worth of stress and cancelled plans on your shoulders, that's not going to happen for some families. If you're one of them, this is how you can mitigate COVID risk during holiday celebrations.
7 Ways to Reduce COVID Risk This Holiday Season
Most experts aren't actually recommending that you cancel your holiday plans at this point, but rather, to layer risk mitigation techniques. "I'm not saying it's best to cancel, but I'm saying it's best to use the tools in the public health toolbox…in the best mix that fits that unique individual needs of you, your family, and the people you celebrate with," Santella says.
Each preventative measure you add increases your odds of staying safe from COVID this Christmas. You don't need to incorporate all seven into your plan, but the more you do, the safer you'll be. One alone isn't going to cut it.
Get Tested: If you can find a rapid test, take it immediately before attending a gathering. Encourage others at the event to get tested before showing up too. If you're hosting, consider making it a requirement. Remember, tests provide a snapshot of whether you're likely to be infectious at the moment you take them. So if you're visiting family for multiple days, testing multiple times over the course of your stay is best.
Wear a Mask: Sure, it's awkward to wear a mask at a party. But if you're meeting up with people indoors, a mask makes it safer. One recent study even found that the incidence of new COVID cases is cut by 53 percent when people wear masks. Level up your mask from cloth or double mask for added protection, especially when in public.
Stay Outside: An outdoor Christmas party probably isn't going to be possible in most of the country. But if winter in your location is on the warmer side, take the party outdoors to reduce transmission risk. It's likely that less than one percent of COVID infections are due to outdoor transmission.
Ventilate: Can't hold Christmas outside? Ventilate instead. You can buy a virus-filtering air purifier, make a DIY one yourself, or open the windows to increase ventilation. Without ventilation, the coronavirus can stay in the air for up to 16 hours, but filtering the air and getting it moving decreases risk.
Mandate Vaccines: Make sure that everyone you meet with who is eligible is vaccinated. Ideally, they should be boosted too.
Get a Booster: "Christmas may be on Saturday, but you still have the rest of this week to get your booster," Santella says. It probably takes about two weeks for the booster to prime the immune system to its fullest extent, but there is likely some amount of protection from a booster after just a few days. A booster multiplies antibody levels in individuals who received the Moderna vaccine by 37 times and in those who received the Pfizer vaccine by 25 times.
Check for Symptoms: If you're feeling even just a little unwell, "Stay home. It's not worth it," Santella says.
When taking holiday risks, it's important to examine your medical risk first. "Folks who are boosted yet remain high-risk because of their comorbid conditions and other health ailments really need to think twice about participating in gatherings this season," Santella says. The same is true for any kids who are too young to be vaccinated and are immunocompromised.
As for local prevalence of Omicron, Santella cautions against getting too caught up in technicalities. "What you and I and everyone out there needs to do hasn't changed, whether we're talking about Delta, Omicron, or the next variant. Public health mitigation measures like being vaccinated, being boosted, wearing a mask appropriately, hand hygiene, physical distance, monitoring your signs and symptoms — those things will always be the same."