These Audio Tattoos Let You Save Baby Sounds In Your Skin
Devoting a chunk of skin and ink to your kids just got a major upgrade.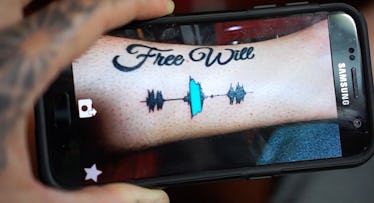 Devoting a chunk of skin and ink in honor of your kids just got a major upgrade. Skin Motion has created a way to capture sounds via tattoo, without any invasive implants. The company is making use of augmented reality (a la Pokémon Go), inking tattoos in the shape of actual sound waves that, with a little help from your smartphone's camera, can be interpreted and played back by a new app, sort of like a QR code. The sound waves could theoretically capture your baby's fetal heartbeat, his first laugh, her first words — an audio memory inked onto your body, forever.
According to the Skin Motion website, the process is relatively straightforward. "A person uploads or records the audio they want into the app or website. We generate the Soundwave from that. The person takes the generated Soundwave to a tattoo artist from our Artist Network…Once the Artist does the tattoo, a photo of the tattoo is uploaded to our platform. Our platform processes the audio and tattoo and adds it to the app. When the user opens our app and points the camera on their mobile device at the tattoo, it recognizes the shape of the Soundwave and plays back the audio."
Skin Motion is already partnering with tattoo artists around the world to create a network of licensed professionals (presumably to prevent your baby's first giggle from coming out as a concerto) and the app is set to be released this summer. There is no word yet on the cost of the app or the ink, or even where you can get these audio tattoos—leading some to question whether the project can be taken seriously. Company founder Nate Siggard tried to set customers at ease with a demo video of the tattoo in-action. But until we see (or hear) the tats for ourselves, we'll remain skeptical.