3 Online Birth Classes You Can Take From Your Couch
One even has a money back guarantee.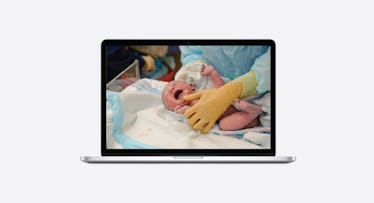 Modern culture is increasingly centered around couches. From our comfy seats we browse, stream, snack and digitally socialize. Heck, you might have even made your baby on the couch (don't tell anyone, people have to sit on that thing). So why leave your pushin' cushions just to take a birth class? There are plenty of online resources to get you ready for the big day, like these 3. But before you decide to close the loop and have a couch baby, consider the amount of Febreeze and Scotch Guard you'll need. (A lot. You'll need a lot):
Lamaze Online
What It Is: "Lamaze," which refers to a specific technique and philosophy, has become shorthand for any class that prepares a couple for what to expect during childbirth. But Lamaze is unique in its ideas. Six "healthy birth practices" form the foundation of the technique. The practices range from a natural start to labor, to keeping mother and baby together after birth. Probably because like basically everyone, Fernand Lamaze was totally traumatized by that scene in Dumbo. C'mon, Disney, why you gotta make us have feelings!
What's Offered: Online participants can choose from a wide variety of course bundles. Bundles include topics like "Basics For Beginners" and caring for your kid when you get them home. Courses include videos, quizzes, instructional sheets and often the ability to send a message to your certified course instructor. That could get interesting if you're taking the "Sex During Pregnancy and Beyond" course, which costs about $30 and is hopefully the only time you'll ever pay for sex with a pregnant lady.
Cost: $79.95 (bundles), $29.95 a la carte
Birth Boot Camp
What It Is: This online program is based on what's called the Mother-Friendly Childbirth Initiative. It was built to educate and empower women to pursue doula-supported, drug-free childbirth. The program encourages freedom of movement and as few interventions as possible. They also take a hard stand on encouraging breast-feeding and discouraging non-religious circumcision. Great class if you want your baby boy to rock a turtle-neck forever.
What's Offered: Unlike normal boot camp, Louis Gossett Jr. won't yell incredibly offensive things at you about the 2 things he thinks come from Texas. Instead, Birthing Boot Camp offers certified instructors who will help you navigate natural childbirth. The curriculum includes a physical workbook, birth-videos, audio files to guide relaxation techniques, an exclusive breastfeeding video and … a pen! That's really the selling point.
Cost: $295
Johns Hopkins: Understanding Birth eClass
What It Is: For people who live nowhere near John Hopkins (like the majority of America, statistically), they offer this birth class that delves into the intricacies and options of hospital-style birthing. It leverages all of the deep medical information that John Hopkins has to offer, including information regarding c-sections, which aren't necessarily a focus in other, more crunchy, online classes.
What's Offered: The online course offers a ton of video, but also interactive widgets like an animated comparison of body parts that are and are not under the influence of pregnancy. Which proves she's not joking when she has to go pee. Who knew a bladder could get that small! They also have goodies that only a research hospital can tap, like 4D images of a baby moving in-utero. What a coincidence. Your wife has 4Ds too now!
Cost: $50
Health savings accounts can reimburse most online birth classes. So keep records of your payments. And maybe the receipt for your new couch when your wife gives birth there.
This article was originally published on