Yeti's New Dog Bed Is As Indestructible As Its Coolers
For when your dog deserves the very best.
by Lexi Dwyer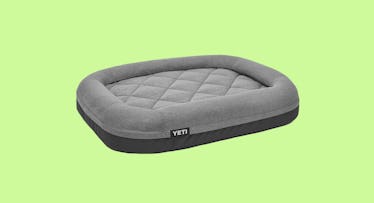 When you're shopping for a large dog bed, you could look for a chew-proof dog bed. Or an indestructible dog bed.
Or, you could try for something truly elevated and get a Yeti dog bed, which is all the above. That's right, pet owners. Yeti, the company behind its signature unbreakable and very expensive coolers and backpacks has now entered the world of pets. The result: the ultimate in luxury dog beds (and bowls).
Here's the deal. The bed splits into two pieces and assuming you have one dog who chills mostly at home, you'll mostly use them assembled together. A center foam pad fits within a supportive bottom bolster (Yeti calls it the "Home Base"), which has a perfect ledge for your little guy's chin.
The pad can be removed and used solo (like when you're traveling), and if you've got two dogs, you'll be happy to know that the bolster can also work on its own as comfy bed. The entire thing weighs 10 pounds, so it's fairly sturdy, and the base measures 40 by 30 inches, with the travel pad being slightly smaller.
The fabric pieces zip off and can be machine washed, and both the pad and base each have a waterproof, EVA-molded bottom (imagine sneaker sole material) that resists moisture from the wet ground, sloppy canine drool, spilled wine, whatever. Yeti imagines that their typical customer is going to be taking their dog camping every weekend, but if you're thinking that this thing is going to mainly live in your apartment or maybe the occasional Airbnb, we don't judge.
Happy customers also rave that they've finally found a bed that their mouthy dog doesn't destroy in a matter of weeks. So if you've been dropping $30 or so every few months on less fancy alternatives, this thing could end up being a better long-term investment—now you just need to upgrade your ten-year-old couch to match.
Every product on Fatherly is independently selected by our editors, writers, and experts. If you click a link on our site and buy something, we may earn an affiliate commission.
This article was originally published on