Yeti's Trailhead Camp Chair Elevates Your Tailgating Game
It's insanely comfortable and, yes, worth the price.
by Jon Gugala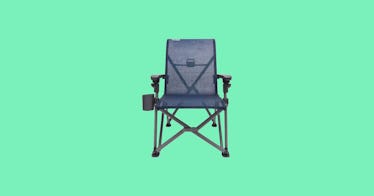 Yeti has revolutionized every sleepy product category it has entered. Coolers? Its rotomolded, thickly-insulated, bear-defying cubes are so popular that they appear in a Chris Janson country song. Its insulated water bottles? Lust-worthy, because they simply do not break or crack. And now the Austin-based company is coming for your humble summertime chair. Its Trailhead folding camping chair, new for this spring, is perfect for picnics, barbecues, and weekends at the lake.
Like that terrible, busted, leaking cooler you retired begrudgingly last summer, many pop-out camp chairs are equally as garbage. They're rusty. They sag. They're less comfortable than a subway seat. Yeti elbows its way into this space by making an overbuilt, more robust (read: heavier and bigger) chair that can withstand much more than its aging competitors.
Each Trailhead weighs a little over 13 pounds, spans shy of four feet with about a foot of diameter when folded, and is to the category the same way its coolers are to those made of styrofoam. It's far from an ultralight and backpacking-friendly option, but it's obviously not intended to be one.
The tradeoff, of course, is solidity, and this thing, when quickly set up, feels more akin to patio furniture than a packable chair. The flexible fabric conforms and suspends your body above a rigid frame that supports up to 500 pounds, which is potentially more than your entire family. You want comfort? This thing is like a BarcaLounger for your hard.
As with most things in life, you get what you pay for. And this case, yes, you're paying a lot, but the details make the difference. Grippy feet, UV protection (which means that it won't crack due to sun exposure), and included carry sack and cup holder for water or beer make a strong argument for its hefty price when weighed against its longevity and performance.
We admit that three Benjamins is an eye-watering amount to spend on a travel chair. But then again, if you're the type that is slaving away for the summer in the same way that others are working for the weekend, you'll get your money's worth. Car-campers, tailgaters, and other drive-in aficionados are going to love it. So while we'll carefully consider our warm-weather plans before purchase, the benefits of Yeti's new Trailhead camp chair are as clear as a summer day.
Every product on Fatherly is independently selected by our editors, writers, and experts. If you click a link on our site and buy something, we may earn an affiliate commission.